Organizational Management for Maximum Results
HFW focuses on organizational management, which is a foundation of the organization, in order for each staff to work lively and maximize their capacity and ability to end hunger so that received donation can be utilized far more effectively.
Based on a 15-year long term policy to the activities up to 2030, HFW formed a 5-year midterm plan from 2016 to 2021 and manages each projects. HFW checks the progress of projects every month, and conducts evaluation twice a year in August and February. HFW will earn public confidence through information disclosure to ensure accountability and activities based on social responsibility(SR) considering human rights and environment.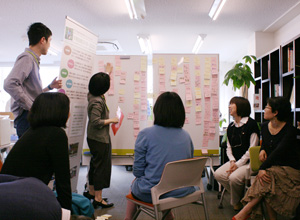 Find problems in workplace and discuss solutions at the annual "Improving work environment meeting".
---
Strategies, Management Structure, and Human Resource Development
A consulting firm provides skills to create strategies. HFW also gets cooperation with interns and volunteers that enables effective implementation of its activities despite the small number of staffs. Further, HFW actively builds capacity of staffs through internal/external trainings.
It also improves working environment by laying down various regulations so that staffs can work lively while caring children or other family members by utilizing short working hours or telework.
Social Responsibility (SR)
HFW conducted accountability self-check of Japan NGO Center for International Cooperation (JANIC) twice and improved the organization. Additionally, HFW created SR action guideline, and published "SR repot 2014" and "The chart of SR actions towards seven core subjects of ISO26000". The chart is updated reflecting the progress every year.
Fund Raising
Support HFW's activities financially. HFW conducts "unposted postcard redemption campaign", "Hitotsubu Bokin" monthly donation program, a bequest donation, "Mirai Musubi project" as well as mobilizing cooperation from companies/organizations or developing new donation programs.
Public Relations
To increase supporters who have sympathy with HFW's mission and cooperate with, HFW communicates its activities widely to the general public. Using various channels such as leaflets, website and SNS, HFW announces events and job opportunities, reports activities, and actively discloses accounting reports of donation in accordance with the guideline.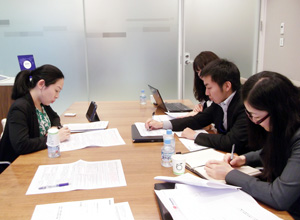 Receive advices from a major consulting firm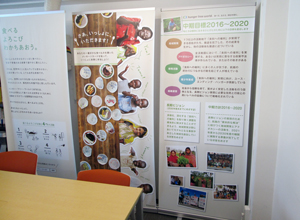 Put the banner printed mid/long term goals in the office to remind them to the staffs every day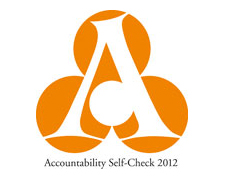 Obtained "Accountability Self-Check (ASC) 2012 Mark", certification system created by Japan NGO Center for international Cooperation (JANIC) to facilitate NGOs to work on organizational management actively in order to earn public trust.