Support children's nutrition improvement and economic self-reliance of mothers
Since 2005 HFW is conducting several projects to improve nutritional conditions and to increase the income of the local residents based in the regional health center in Koubri Country near the capital city Ouagadougou.
To cope with high under-five mortality rate, we regularly treat malnourished children under five with high-nutrition porridge. We also provide nutrition education to mothers so that they can have nutritious meal at home as well. In addition, we provide school lunch at primary schools. With the improvement of nutritional conditions, students increased concentration on their studies and improved academic performance. In the graduation exams for middle school entrance, they have achieved higher score than national average.
People in our project site mostly lives in poverty below 1.9 US$ per day, calling for the increase of their income to access sufficient food to live. HFW provides micro credit (small loan service) for mothers, who are the key persons to control family health conditions. We also conduct goat breeding project for income generation.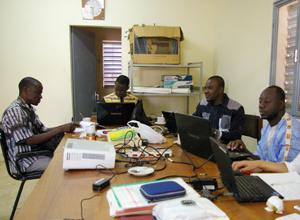 Staffs at the Burkina Faso Office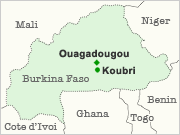 Land-locked country in the western part of Sub-Sahara Africa
---
About Burkina Faso
Burkina Faso is an inland country in the south of Sahara Desert, where most of the people are small-scale subsistent farmers under severe climatic conditions of this dry region. Traditional rain-fed agriculture in the country is highly susceptible to draught and unstable rainfall by extreme weather and low agricultural productivity due to soil degradation cause constant food insecurity. On the other hand, the national character is calm and hard-working as the country name "Burkina Faso" means "Country of noble people". Over 60 ethnic groups attached with their own cultures live together peacefully.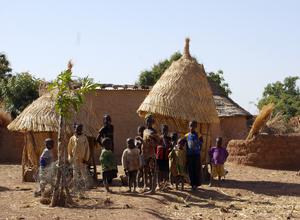 Constantly dry climate except for the rainy season. Grain storage is seen behind children
The background of HFW activities and issues to be solved
As a land-locked country with limited infrastructure, food price in Burkina Faso is high because of transportation cost. Farmers with low cash income face difficulty of getting food when they have bad harvest due to extreme weather. In such case they reduce their meal to one or two times a day with nutritionally unbalanced diet which is mostly carbohydrate, causing poor nutrition. In our project site, food expenditure composes extremely high portion of household budget, accounting for as high as 70% approximately; therefore, in the face of food price spikes and crop failure, they are forced to reduce number and quality of their daily meals, causing constant risk of undernutrition especially of children who have weak immune system. In this male-dominant society, meals for women and children has less priority. The challenge of this country is to spread nutritional knowledge and increase women's income.
Threshing millet using a pestle and a mortar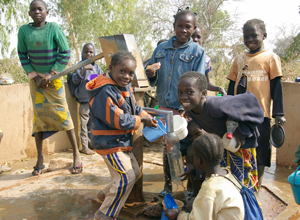 Securing clean drinking water by repairing broken wells
---
Four activities to foster joy of eating -Burkina Faso-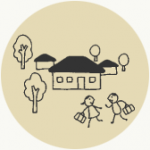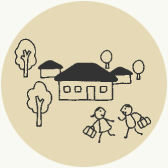 Develop rural communities
At four villages in Koubri Country, we conduct six projects including improvement of nutritional status, provision of school lunch, livestock breeding for income, and support to the local co-operative association. Facilitators selected from the community and received trainings are showing leaderships in the projects.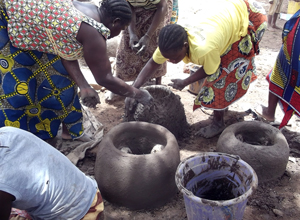 Improved heat-efficient cooking stoves do not consume too much firewood, protecting forests and reducing labor on women
---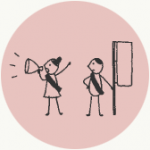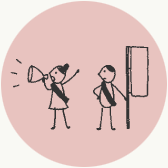 Changing the system
HFW is proposing the right to food to be officially stated in the constitution of Burkina Faso. We also led the establishment of a network organization called "Actors' Network for Sustainable Development of Burkina Faso" in partnership with other NGOs.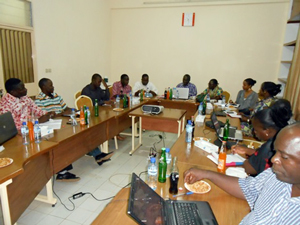 Workshop held by the network on effective advocacy
---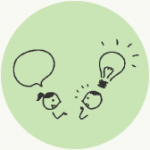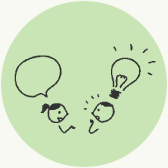 Raising awareness
We perform educational activities with a focus on the right to food. In order to make this concept easier to understand for the local people, we take various approaches such as picture-story shows. Residents are discussing ideas and making several proposals for the realization of right to food.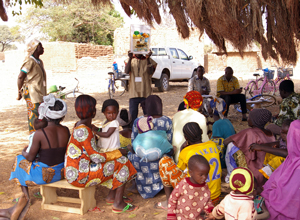 Bringing necessary knowledge for the life of local residents using a picture-story show
---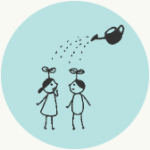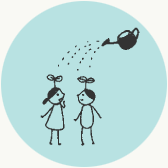 Youth Development
One group consisting 67 youths are active in one region. In order to improve environmental hygiene to protect child health, they mainly perform cleaning and educational activities at primary schools. Members also gain working experience by supporting HFW activities.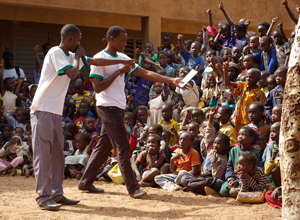 Skits to attract children's interest on the issue