18 Dec. 2018 Uganda
Dances and skits in the awareness-raising event deepened people's understanding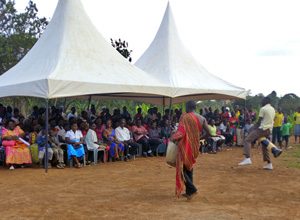 Volunteers performing close to the audience in order to deliver better understandings
deepened people's understanding on "the right to food", while bringing the participants to join in our future activities.
On October 6th, we held an awareness-raising session on the cooperative's premises in Kabumba Parish, featuring some songs, dances and skits. It aimed at encouraging people to join and deepening their understanding on "the right to food" by providing an entertaining learning program.
The songs, dances and skits were presented by 30 volunteers from local residents, who are teachers, farmers, retail shop owners, housewives or self-employed workers. They held several meetings with HFW in advance and rehearsed many times. We expected that they would come to join in HFW's future activities. As we expected, 105 local residents, including both adults and children, gathered on the day of the event. The presenters described "the right to food" in a simple way through songs and poems. They also addressed the audience that "we can start from small actions to improve our life. Join HFW's workshops and other activities, as it is important to know how to cultivate crops effectively or how to store food successfully in order to secure food for family".  Local residents enjoyed the poem and skits very calmly, gave claps to the songs and dancing together. The audience had a pleasurable time while gaining a deeper understanding on "the right to food".
Moreover, the volunteers who presented the songs and dances expressed their motivation to act as communicators for HFW from this time forward, and decided to hold the events in other regions next year. We expect a further outspread of the understanding on "the right to food" among people.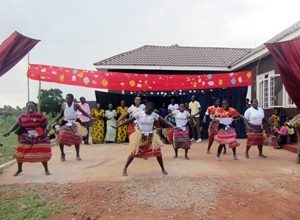 Dynamic dance performance enchanted the audience
Message from Uganda
I was strongly impressed by the performance showing how to cultivate nutritious crops at home. Through this stage, I learnt the ways to cultivate necessary crops for home consumption and for selling. I'll put this into practice.
Nalongo Teo (Farmer in Kabumba Parish)
It was an exciting experience for me as well. I found my aptitude for acting. I also noticed that "the right for food" is an interesting approach. I'm eager to continue this next year.
Matege Ronald (Volunteer member)