Increasing income to build foundation for improving life in rural areas
In the counties of Kaligonji and Boda where HFW works, most residents are small scale tenant farmers who support their families with limited incomes. In 1960's, the government introduced and spread nationwide modern agriculture, for which farmers had to buy chemical fertilizers, pesticides and seeds to sow every year, and these costs heavily burden their family budgets. Also, serious environmental pollution was observed such as health damages caused by pesticides, infertile soil, disappearance of fish in paddy fields. So, HFW has promoted organic farming which is friendly to family budgets and health. We established Centers for Organic Farming as the foothold and offered trainings for making organic compost and organic pesticides to local people. In addition, we carry out various projects targeting at nutritional improvement of residents and income generation.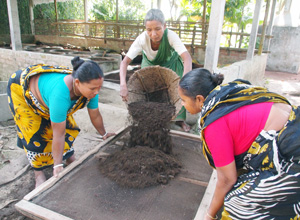 Making environment-friendly organic compost
Striving for enhancing women's status through education, job trainings, and self-help groups
In the rural areas of Bangladesh, many women get married with men their family members or relatives have chosen when they are thirteen to fifteen years old without receiving enough education. Their status in the family are customarily low and they barely have any decision making right in the society. Since they do not have means to earn income, they are forced to face predicaments if their husbands pass away or become sick and their household income decrease. Therefore, HFW has created a scholarship program for female students to support women's education. We also coordinated a self-help organization, Women Ending Hunger (WEH) to support them to help each other in the group to earn income. Further, we also offer job trainings for tailoring, etc. While we carry out these programs, we also seek to enhance women's status in the family by illustrating the importance of termination of early marriage and sufficient intake of nutrition during pregnancy to their husbands and mother-in-laws.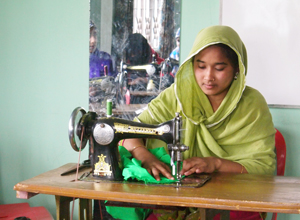 Training for tailoring
Aiming for collaboration with public administration involving local governments into HFW activities
HFW started up a village development organization in every village it was working in FY 2013. It consists of such members as the project promoter chosen from the residents, Women Ending Hunger (WEH), Youth Ending Hunger (YEH), Farmers Cooperative, Income Generating Activities Cooperative etc. Its ultimate target is to solve their local problems by themselves, not relying on NGOs or other aid organizations. Since involvement of public administration is indispensable to solve regional problems, it worked on strengthening the relationship with the ward assembly. In 2013, Hunger Free Award was founded as their first collaboration project. Residents who had worked hard to contribute to the region were chosen and awarded. Joint meetings of the ward assembly and the development organization have been held since June 2014. Cooperative relationship between the residents and public administration to solve the problems of the village is in progress.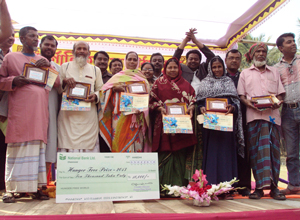 Hunger Free Award ceremony, the first collaboration project with the local government
Efforts for nationwide eradication of hunger through networking activities
HFW played a main role in establishing "Vision 2021 Forum" to aim at freeing Bangladesh from hunger by 2021 which falls on the golden jubilee of its independence. In 2013, the Forum drafted and requested adopting "Citizen's Manifest" that offered opinions on policies to each political party. HFW also started up b_SAFE, a network that advocates safe agricultural produce in Bangladesh. We cooperate with other NGOs to perform wide range of activities in various aspects, utilizing each group's strength. We have been organizing a mock parliament for youth since 2014 with more than 20 groups, through which we succeeded in deepening young people's understanding about "the right to food" nationwide. Besides, we aggressively make use of media such as TV and newspapers so that our activities to eradicate hunger will spread not only in the regions we work but all over Bangladesh.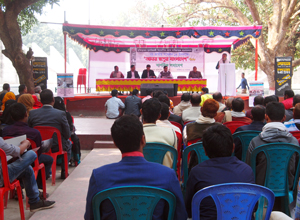 National conference of the Vision Forum 2021. Many enthusiastic remarks for eradicating hunger followed one after another