Road to expanded opportunity of education, the basis of improvement of life
The community of Gbeto and its neighboring villages where Hunger Free World (HFW) carries out projects, are relatively close to the city. Our survey conducted with local people, however, revealed that their primary school enrolment rate, the proportion of malnourished children, and the distance to medical services are almost average level of the whole country or even below. Before our projects launched, one primary school was the only educational institution for the population of 8,000 people in this community. Low enrolment rate derives from lack of the opportunity to continue education after graduating from primary school. Most of the adults have only got education in the earlier grade of primary school.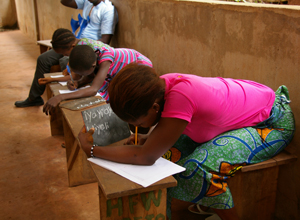 Women learning hard in the literacy class
Graduates from literacy class contribute to the local community
In order to solve this issue, in December 2004 HFW started literacy education for teenagers and adults who missed the opportunity to get education. By 2015, total 793 people have learned to read and write in Fon, their local language, and acquired basic calculation skills. Some graduates have become teachers at the literacy class to teach other people while some also play an active role as facilitator of HFW projects to perform awareness raising activities, utilizing the ability they acquired in the literacy class to contribute to their local community. Ability to read and write have enabled mothers to start a new business to earn some extra money to buy nutritious food for their family. This literacy education project was approved by Benin government in 2014 based on the achievement of previous years.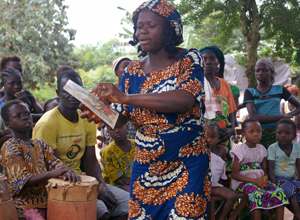 Play an active role of facilitator of HFW projects after graduation of literacy class
Various approaches for better understanding by local people: radio programs, picture-card show, skit, song and dance
Besides literacy class, we are performing awareness raising activities to share necessary knowledge for their lives including nutrition, sanitation to prevent disease, and the "right to food" to perceive hunger as the issue of their rights. In order to make it easier to understand for local people including those who cannot read or write, we apply various approaches such as radio programs, picture-card show, skit, song and dance. Members of HFW's youth organization, Youth Ending Hunger (YEH), are also taking actions in their own way to spread these ideas to the students in their schools. Their activities cover students of their age to the younger age in primary to secondary schools.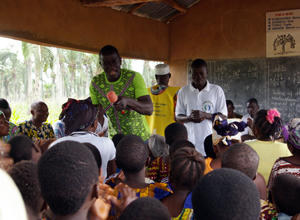 Radio program to raise awareness
Starting community initiated project management with enhanced engagement of the local government
The self-reliance committee was launched by local people at Mother and Child Health Care Center, run by HFW as the center of rural medicines. The committee called for cooperation of local people to manage the center, while approaching a cabinet minister to request the restart of infant vaccination which has been paused due to national situation. Together with local people, HFW also appealed to the competent governmental authority about the use of abandoned field for new cultivation. During these actions local people are gradually learning to address issues of their community by approaching the local government. Their perception of community improvement is changing; not simply waiting for supports from outside but taking actions by themselves.
(2016.6.30)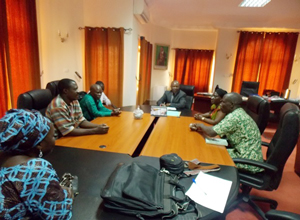 Self-reliance committee proposes a cabinet minister to restart infant vaccination