Do not let babies die by malnutrition
Several factors exist as a background of high under-five mortality rate in Burkina Faso. In addition to meals poor in both quality and quantity, malnourished mothers tend to give birth prematurely, and insanitary environment easily causes infectious diseases and diarrhea to infants. In our project site, the national government used to run a project called nutrition rehabilitation and education for infants, lactating and pregnant mothers (CREN); however, the nutrition rehabilitation center, where all the activities based, was closed because of financial difficulty. "We have witnessed babies dying almost every year since the project was closed!" Responding to the appeal of local residents, HFW restarted this project in 2005 by utilizing the existing building and experienced staffs from CREN. In the project, we measure body weight and height of infants three times a week and provide high-nutrition porridge. We also provide nutrition education for mothers so that they can also prepare the porridge and feed their children at home. As a result of seamless support including home visits, 216 out of 260 children successfully recovered from malnutrition in the FY 2015.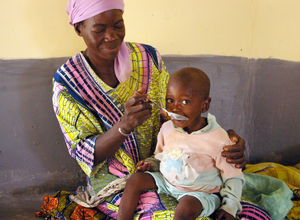 Babies eating high-nutrition porridge at mother and child health center
Protecting child health and improving their academic performance by providing school lunch
We started to provide school lunch at three primary schools in our project site. The objectives are to protect children's health and to expand the opportunity for education. Students who cannot go home for lunch used to remain at school to take afternoon classes on an empty stomach. The start of school lunch has allowed them to fill their stomachs to increase concentration on their studies, and they began to use lunch break for preparation and review of their studies. Increased study hours resulted in the improvement of academic performance. At the graduation examination for secondary school enrolment in 2012, we achieved the goal of 100% students to pass the examination while the national average is 64%. All of 51 students in the sixth grade received graduation certificate. In addition, more than half of them enrolled in the secondary school as superior students to receive tuition exemption. Number of students of these schools doubled since the start of school lunch, showing that school lunch is playing a part to promote education in the community. Local people support school lunch as well; for example mothers participate in cooking as volunteers and students' families donate the ingredients.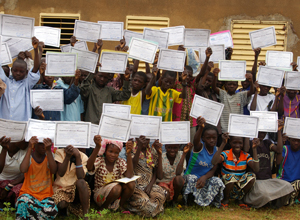 Everyone received graduation certificate
Improving nutritional conditions of families by increasing the income of women
Mothers use their income for feeding their family and for general improvement of their lives; therefore, mother's income is a key to improve health conditions and livelihood of family. In order to increase their income, we provide micro credit (small loan service) for mothers in four villages in our project site. With this capital, women in each village made groups and have started their business such as selling onions and local spices, rice milling services, local alcohol brewery based on active discussion among group members. All of the groups have made steady profit, paying back their loan without delay. Income from this business is used for food and child education in their families. Besides increased income, this project also encourages women and strengthens the sense of partnership in their groups. Some of them have even started to run their own independent business without the support from HFW.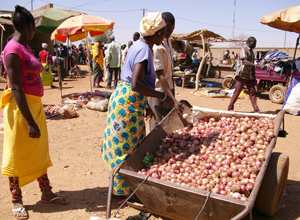 Mothers' group making profit from selling onions
People's lives began to change through awareness raising activities
Local leaders who promote HWF activities monthly hold gatherings to raise awareness on nutrition, sanitation, and the right to food. They also arrange an event to think about food and eating habit for World Food Day every October. Local people increased their awareness about their food and eating habit and have started to take actions based on their learning such as "balanced production of food and cash crops", "managing food storage and consumption", "producing and consuming grain crops suited to local environment", and "changing cooking method to more resource-saving way, for example, using less fire wood to protect local environment".
(2016.06.30)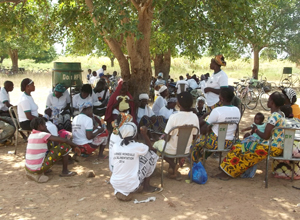 Contemplating cases in which the "right to food" is violated