26 Jul. 2018 Uganda
Conducted training for leadership and organizational management to 100 leaders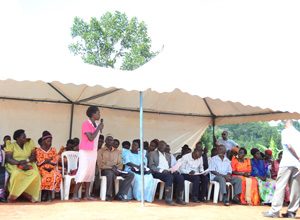 The general meeting of Tumbaali-Lwemwedde welcomed six guests and 95 members from coorperatives participated
From FY2017, a large-scale project started, aiming to improve food intake and strengthen the capabilities of local residents through cooperatives under the free financial assistance for NGO by Ministry of Foreign Affairs. As a part of the project, the annual general meeting of cooperatives was held in March. HFW supported the management. Approximately 100 members from cooperatives participated the meeting and they approved the business plan and accounting in FY2018. Several projects have started including a loan project of chairs and tents in Kabumba Parish, and a chicken rearing project in Luguzi Parish, and a program to refund the purchase price of land for each cooperative office, which was paid by HFW. Specific activities began in order to operate independently without receiving support from HFW.
Moreover, in April, we conducted the training for leadership and organizational management to a total of 100 leaders and officers from four cooperatives. So far, the role and responsibility of cooperative officers was not clear enough, the reporting structure was not organized, activity plans were not available, and yet laws and regulations had not yet been known to all employees. Therefore, we invited the commerce officers of the district in each parish as a lecturer to conduct training where they provided guidance on the knowledge necessary for cooperative management. In addition, we discussed how to solve problems based on the analysis on strength and weakness of cooperatives and on external environment surrounding the cooperatives. As a result, organizational restructuring of cooperatives were performed. The roles of officers and committees are clearly defined and strategic plan has started. From now on, we can expect that the cooperatives would be operated and managed efficiently and effectively mainly by the members.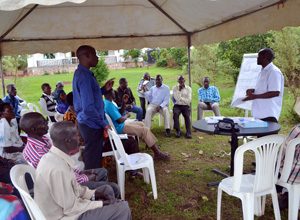 They had animated discussions at the training. There were a great deal of interest in the accounting management such as saving and loan in particular
People who are trying to eliminate hunger
I only had a vague idea about laws and conduct related to cooperatives. I want to thank HFW for having organized such training this time. Just like the role of other colleagues, after I learned the role as a cooperative head in this training, I felt like I want to lead the cooperative in Luguzi enthusiastically.
Mrs. Bukirwa Rehema ( the newly elect chairperson Luguzi HFZ coop)