25 Aug. 2014 Uganda
With deteriorating quality of all wells examined for ten years since they were constructed, concern is growing.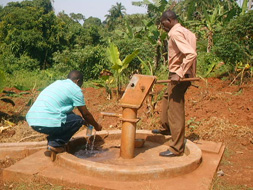 HFW staffs who received instruction from a specialist take water sample from each well and had it analysed by the government laboratory. As a case in point, 3,500 yen can buy a pipe for a well
Shallow well construction and training on maintenance
In three of the parishes in Wakiso district where we are active, water quality testing and repairs were made in 10 wells that had been built more than ten years ago. In August, 2012, I, Kiddu Gonzaga, and my co-worker, Nalubowa Stella, took water samples from the wells and requested a government facility to examined them. In December, we received the results. To our surprise, the water quality from all of the wells had worsened.
Since HFW started activities in Uganda in 2001, the number of wells we have provided comes to 69. As of 2002, there was only one well per 2000-3000 residents, and many people used contaminated pond water in their daily lives to avoid the crowded conditions. At present, there is one well per 250 people, and wells have become available for most people, and cases of skin diseases and diarrhoea resulting from dirty water has decreased considerably. Further, well supervision committees consisting of residents now carry out routine maintenance and repair of the wells.
However, with more than ten years having passed since the first wells were built, even if the early days were without incident, it has reached the point to where it is possible that water quality has deteriorated. In Uganda, although local governing bodies and NGOs construct wells, they seldom examine or repair the wells after construction. However, this is something that concerns the health of those living there. This time we checked the oldest of wells. The results revealed that water quality has worsened.
Upon consulting with a specialist at a public university, we took measures such as replacing rusty iron pipes with plastic ones. Fortunately, no serious harm was done to the local residents' health, and now we can offer a safer water supply.
Officials of Wakiso District who cooperated in conducting these tests also took great interest in the results. Along with reporting the inspection results to the prefectural authorities, HFW plans to propose at regularly held gatherings of prefectural officials and NGOs that the prefecture, or others, conducts water quality inspections.
Further, HFW, will continuously inspect the wells that have been provided up to now, call on the prefecture to cooperate to strengthening the ability of the citizen well supervisors and coordinate prefecture and citizen groups to bear the responsibility in carrying out water quality inspections and repair.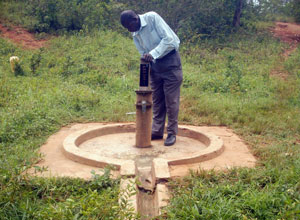 The overground parts of the wells were repaired by a repairing company. This helps prevent rain from seeping into the wells and polluting the water with microbes.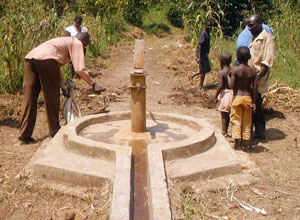 Residents planted grass after the inspection and repair of the wells. They maintain the wells by themselves.