22 May. 2012 Uganda
A simple printing press is donated that would help school give quizzes more often and reduce the cost of printing.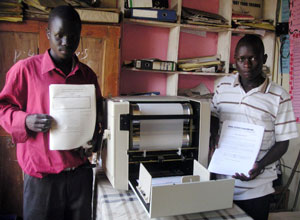 Teachers start printing teaching materials with the new printer.
Upgrading school facilities
In June 2011, a stencil duplicator was donated to Yurie Yoshimi Memorial Primary School and a donation ceremony was held. HFW helped in the construction of the school building in 2004 and since then has provided support.
The school had outsourced the creation and printing of examinations, but it was expensive and took a long time. So HFW donated a stencil duplicator that would enable the school give quizzes more often and reduce the cost of printing.
On following day after the ceremony, the teachers were given training in using the press. They expressed great delight saying, "We can give quizzes more often. In addition, we will be spared the trouble of transcribing questions of tests on a blackboard." Some of the students seemed to share in their delight. One of them said, "I have had a lot of trouble reading exam questions on the blackboard, because sometimes the head of my classmate sitting in front of me blocked my view. Having my own test papers makes me very happy." We hope that the pupils will thrive as future leaders of community development with a better educational environment.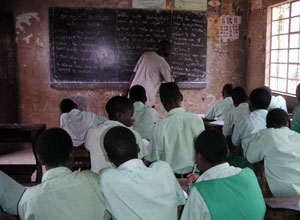 Teachers had to write questions on the black board and students wrote only answers on paper before the printing press was donated.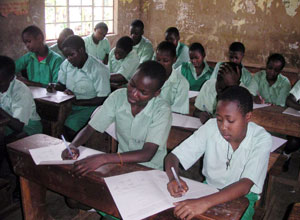 At quiz time, the sheets with questions printed were distributed.