1 Apr. 2010 Uganda
Construction of 16 wells and seven public toilets completed in Kabubbu parish.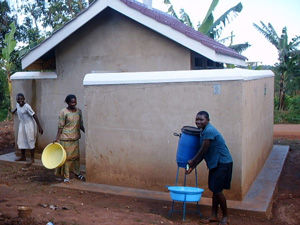 Washing hands after using the toilet
Kabubbu water and sanitation
The construction project of wells and toilets in Kabubbu parish that began in March, 2008 was completed in September. There used to be only one bore hole (deep well) for four villages in Kabubbu parish for a population of around 6,000. To address this, a total of 16 shallow wells were constructed, as well as seven public toilets, one for each of the seven villages in the parish.
After being plagued for a long time by diseases caused by contaminated water, such as dysentery and parasitosis, residents are expressing high hopes, saying "Our children won't get sick as easily, and medical cost will be reduced." Market places where many people gather, people used to relieved themselves in the bushes nearby, polluting the ground water. By building public toilets, the hygiene level in public areas improved significantly.
Women and children used to walk several kilometers to fetch water. Now it takes only a short walk to a nearby well, so they have more time to spend on their field work and/or study.
HFW leaves the management, repair, and maintenance of the wells and toilets to managing committee members who were elected by local residents. In September, HFW ran training sessions for the local management committee members to improve their general knowledge on public sanitation and their daily maintenance skills, such as keeping good hygiene levels around the wells and disinfecting toilets. HFW also assisted residents in creating rules to schedule access to the well for each family and to collect fees for repair work. By using these rules, residents will be able to maintain their wells and toilets by themselves.
This project was made possible by the "Grant Assistance for Japanese NGO Projects" offered by Ministry of Foreign Affairs of Japan.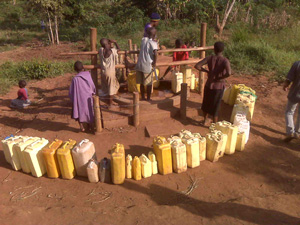 Waiting for a turn at the well