1 Apr. 2010 Uganda
Protecting the environment in fruit orchards. Financial independence of women and improving family nutrition.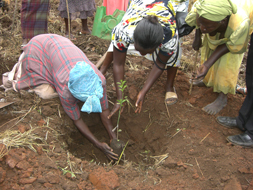 Women plant mango seedling in their gardens
Organic fruit trees growing for women (WEH)
Global warming affects climates and prolongs dry season. Wakiso district, where HFW is active, is no exception. According to a survey conducted by the district, rainfall in this area declined from an annual level of 1,400 mm in 1,996 to 987 mm in 2006. Moreover, the demand for firewood for cooking has increased in line with population growth and people are producing charcoal as a means of earning cash income. As a result, forests are being felled. There is no custom of tree-planting, and therefore, forests are being depleted. This is also contributing to the extended dry seasons.
Furthermore, there are a large number of women who have lost either their husband or parents to HIV/AIDS and in the areas where HFW is active, the percentage of female-headed household rose to as high as 34-44% (Wakiso District Study). Most of these households aren't able to earn an adequate income and therefore, only have one meal per day. Both the women and the children exhibit chronic malnutrition.
From August 2007, HFW has been operating an organic agroforestry project, targeting 20 households in each of the parishes of Luguzi (five villages), Nakkede (four villages) and Tumbaali-Lwemwedde (six villages) in an effort to support the independence of underprivileged women and protect the environment. Since 2008, we have widened our targets to encompass 140 households in Kabubbu parish (seven villages) and 120 households in Kabumba parish (six villages).
In 2008, we held two days of training in Kabumba parish in July and in Kabubbu parish in October where women from each district received lectures and on-the-farm training on things such as methods of planting and grafting seedlings and applying organic fertilizers. Afterwards, the women planted a total of 5,460 mango, avocado and orange seedlings on their own land.
From October to December, the young orchards suffered various kinds of damage as some seedlings were destroyed by disease and insects, died due to excessive rainfall or the grafts were broken off by strong winds. HFW provided assistance by applying botanical fertilizers, digging ditches to irrigate the fields and fortifying the fruit trees with stakes and managed to minimize the damage. HFW staff members currently pay regular visits to the fields of the participants. Among other things, they teach tecniques such as "mulching" (covering the ground of a field with dried grass), which hinders the growth of weeds and prevents damage caused by disease, and "drip irrigation" (hanging a vinyl shopping bag with a small hole next to the seedling so that the seedling receives a gradual and continuous supply of water). "Drip irrigation" is a technique that was devised by the women of the Luguzi parish in 2007 and it has been proven to be effective.
We anticipate that this tree-planting will assist forest recovery and soil conservation and, when the trees begin to bear fruit 2-3 years from now, the harvested fruit will improve the nutrition of the women and their families and increase annual household incomes by $2,300 per household.
Projects in the parishes of Kabumba and Kabubbu were conducted with grant from the Japan Fund for Global Environment.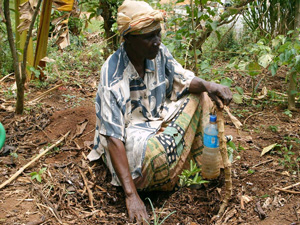 A woman uses a plastic bottle for dripping irrigation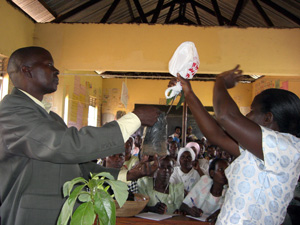 Tree growing training
Message from Uganda

It is to my disbelief that I am growing such numerous fruit trees! I thank Japan Fund for Global Environment and HFW for the support. The training was very informative. I learned the skills for grafting and making organic compost by myself. I will try as much as possible to put into practice what has been taught to us for maximum yield output.
Namwandu Muwonge Manyangwa A village, Kabubbu parish