1 Nov. 2007 Uganda
Commencement of corn cultivation and a poultry farming venture in Nakkede parish.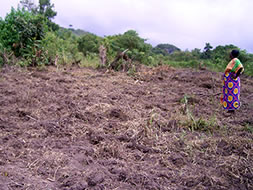 Cut down the bush, and ready to sow a field with seed
Maize growing and local chicken rearing
Uganda is blessed with a temperate climate well-suited to agriculture. Unfortunately, many of the poor in Nakkede parish in Wakiso district have been unable to put this fertile land to use, due to a shortage of capital to buy the necessary agricultural tools and seeds. Also while some households in the area are raising chickens and pigs, the traditional methods employed don't make use of immunization, leading to insufficient income. With appropriate animal husbandry techniques and the necessary materials for farming, such poor farmers should be able to achieve economic independence.
Upon discussions between local residents and HFW, vegetable and poultry farming plans were decided upon. HFW distributed high-yield hybrid seeds and local chickens with higher resistant to diseases and gave trainings on agricultural and poultry-farming techniques. High-yield hybrid varieties of corn produce enough crops for household consumption, the following season's planting needs as well as market sales. The advantage of local chickens is that compared to other livestock, they are simple to raise, and the eggs can provide a source of income in the short-term.
Participants in this project were chosen from four villages in Nakkede parish, 10 households from each, totaling 40 households. The great majority of the local people are poor small-scale farmers. Participants included single mothers who lost their husbands to HIV/AIDS or civil war, and grandparents raising grandchildren whose parents have died.
The first step was to form a group amongst the 10 households in each of the villages, from which groups five members each were selected at the end of March. These selected members received technical training on agricultural techniques and poultry-farming, which they were then to use to advise their respective village groups.
In early April, each household cleared land for planting and sowed corn seeds. The growth of the crop went smoothly, and currently weeding and other work continue. The next steps planned were the distribution of the chickens and their immunization.
Up until this endeavor, HFW had led projects in the area on well and school construction as well as HIV/AIDS awareness raising. The corn cultivation and poultry farming project was the first attempt at a venture designed to create income. The expected benefits of this venture include not only an increase in income, but also improvements in nutrition due to the ready access to food crops.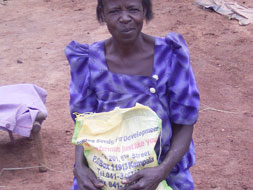 A woman holds protectively a sack of maize distributed to her
Message from Uganda
Just because I'm a woman, I've had little opportunity to participate in community activities and projects, and I've even been unable to receive government services. There are many women like me, who bear the heavy responsibility of being the only person in the household earning money. It's wonderful that women are not put at a disadvantage with the HFW projects.
Nakaguwa Teopisuta : resident of the village of Kikoko