1 Apr. 2010 Uganda
The construction of 16 wells and seven public toilets is now under way in the Kabubbu parish.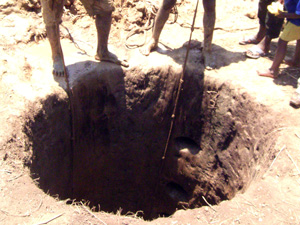 A well under construction
Kabubbu water and sanitaiton
In rural areas of Uganda, only 56% of local people have access to safe drinking water, either from a tap or a well. Almost half the population is forced to use water from dirty springs for drinking water. The percentage of people with access to sanitary toilet facilities is even smaller at 41%. Many people must go in the bush. Because of this situation, the problem of ground water contamination by human feces is growing very serious, particularly in and around village markets where there is heavy pedestrian traffic.
Drinking or bathing in contaminated water can cause dysentery, typhoid, parasitic disease, skin disease, or eye disease. There are numerous families in rural areas with hardly any access to medical treatment due to the lack of medical facilities or money. Infectious disease for the children of these families can be fatal. Children already suffering from malnutrition often face increasingly serious nutritional deficiencies when, because of diarrhea or parasites, they lose the ability to digest and absorb nutrition from the food they eat.
To improve the situation, HFW Uganda has dug 39 shallow wells in five parishes since 2002. We also built five sanitary, gender-specific toilets while building primary schools. In the Kabubbu parish, they have established 10 shallow wells in three villages out of seven. The areas with new wells have seen a decrease of as much as 80% in diseases caused by contaminated water. The new wells have helped to lower the number of cases of malaria contracted by villagers who are bitten by mosquitoes while collecting water at the springs. In the remaining four villages of the Kabubbu parish, however, there is only one bore hole for 6,000 people, and 90% of villagers are still using dirty spring water.
A grant from Ministry of Foreign Affairs of Japan through the Grant Assistance for Japanese NGO Projects program enabled us to undertake the construction of 16 shallow wells and seven public toilets in these four villages. All the villagers who had been forced to use dirty spring water are looking forward to the completion of the wells and toilets, which is slated for September 2008. After completion, any large scale repair work will be taken care of by the local government of the Kabubbu parish, and the villagers themselves will look after the day-to-day maintenance. They will establish and elect a management committee for each facility. Creating rules for proper usage, making a schedule for access to the wells, and building up a reserve fund for repair jobs, all these things will be managed by the villagers themselves.
* Shallow well and bore hole:  A shallow well is about 15m deep, and can be built by manpower alone without machinery. It can be built near valleys and the like where water veins lie relatively shallow. A bore hole is about 30m deep, and is dug with the help of machinery. It can be built at any desired location, such as near a group of houses. A shallow well costs around ¥400,000 ($3,700) to build, and a bore hole costs more than ¥1,500,000 ($14,000). HFW Uganda builds mainly shallow wells because they can build a larger number of them for the same budget.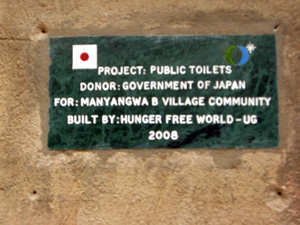 Plaque reads that the facility was constructed by HFW with the support of Ministry of Foreign Affairs of Japan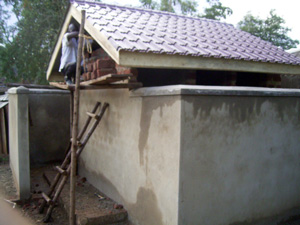 A public toilet under construction
The budget in our sub-county is so limited that we have not been able to do anything to improve the water supply even though we knew that contaminated water caused diseases among our people. We are truly grateful that HFW has helped to build facilities for safe water. Our responsibility now is to maintain the facilities and see to it that villagers can continue to benefit from them.
High-ranking official of the Nangabo sub county, of which Kabubbu is a part