8 Jul. 2011 Uganda
Electric lights have come to a school! Students are now able to study after it gets dark.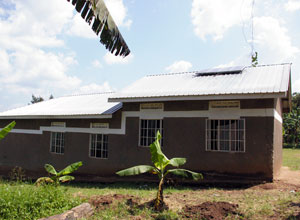 The primary school building equipped with solar panels.
Upgrading school facilities
In Uganda, only 12% of the households have access to electricity, and those living in rural areas have no more than 4% (data from the Japanese Embassy in Uganda). Most families use cheap paraffin lamps, but because of their dimness and the amount of soot they emit, these cannot be used for long hours. In the village of Lwemwedde, Tumbaali-Lwemwedde parish, where HFW is active, the Nagoya Mizuho Rotary Club Memorial Primary School had no electricity, and in bad weather or at nightfall, it was dark in the classrooms and the blackboards were difficult to see. In May of 2010, HFW installed electricity-producing solar panels, storage units, and energy-efficient lighting bulbs.
Soon after their installation, with the graduation exams fast approaching, graduating students of the seventh grade made the classrooms into a temporary dormitory for night study in order to prepare for it. The results have not been released yet, but it is expected that the grades will improve. These changes are well received by the teachers who say, "It enabled teachers to stay later in the classrooms to prepare well for the next day's lessons," and "grading exams becomes much easier." The school is going to be used as a gathering place for the community, too.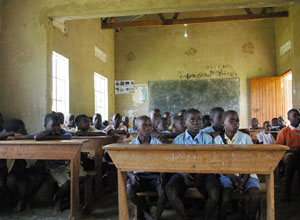 A classroom equipped with electric lighting.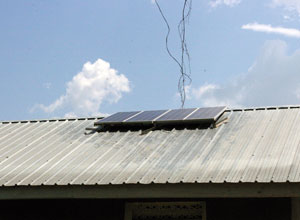 Solar panels on the roof.