No.24   1 Jun. 2009
Early childhood education saves lives.
-Pre-school learning and development for children who face hunger and poverty-

INDEX
P1

Early childhood education saves lives.
A new school year started. Young children on their way to kindergarten or childcare clasp the hand of their mother or father. It's a familiar sight in Japan. However, more than 60% of the world's children cannot receive education or go to childcare prior to their schooling.
When we hear the words "Early Childhood Education," the images that spring to mind are of education that prepares children for elementary school or day-care center where dual-income families put their children in. What does pre-school education and childcare mean to children? Let's take a look at examples from Japan and countries around the world.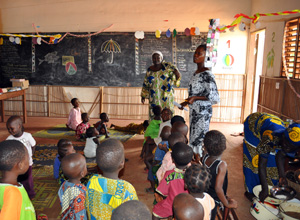 Children studying in a kindergarten in the village of Gbeto in southern Benin
---
Changing with society: Early childhood education.
In Japan, kindergartens and childcare centers are facilities that provide care and education to children before they enter primary school. The first kindergarten in Japan was a preschool that was attached to the Tokyo Women's Teachers College (the present-day Ochanomizu Universityn), a school that was established in 1886. The main purpose of establishing this kindergarten was to provide preliminary education to children before they entered elementary school. Kindergartens that were modeled on this facility sprung up rapidly around the country, mainly in urban, well-to-do areas. On the other hand, in Japan, childcare started to be as centers for minding children whose families were poor around 1900. These facilities were established as part of a government welfare initiative.
In Japan, childcare centers played a particularly important role after the World War II, when they served as places for caring for children who had lost parents in the war. Meals were provided so that children who didn't have enough to eat could obtain necessary nutrition and this supported the development of those children.
Later, Japanese society continued to change greatly through its post-war recovery and era of high growth, and it is still changing today. Nuclear families have spread with the growing participation of women in society and the expanding number of households where both spouses work. Hand-in-hand with these changes, kindergartens and childcare centers are now expected to play the role of a place that provides supplementary child-rearing in place of the home and the local community. In the 1980s, the percentage of five-year-old children in Japan who received early childhood education at kindergartens or childcare centers had grown to 90%.
Today, Japanese society is, on the whole, economically prosperous and, as it rapidly changes, even kindergartens have come to provide child-minding services. There are now few differences between childcare centers and kindergartens. For this reason, kindergartens have needed to become early childhood education facilities where the educational and welfare needs of children are met under one roof.
Even the present-day Fundamental Law of Education sings the praises of early childhood education, stating that "Early childhood education is an opportunity for cultivating the foundation of a lifetime of character development." This statement and others like it indicate that the impact of such facilities goes beyond education that prepares children for entering primary schools and care centers and for this reason, such facilities have been reevaluated as a place where children's character formation occurs. As a result, the various facilities are enhancing their curriculums in order to make them more diverse.
---
The few years in early childhood impact that person past the age of 40.
As the Japanese case study shows, the role of early childhood education is multifaceted. However, throughout the world, there is little research or achievement data related to its effects, and therefore, its impact and actual circumstances are not well understood.
Among those few studies that have been conducted on the subject, there is an American study which recorded information about children who received early childhood education and followed them through the next 40 years of their lives. According to the results of this study, the rates of repeating a grade, leaving school part-way through, committing crimes and becoming pregnant during the teenage years are lower for children who received early childhood education compared with those who didn't. The results also show that the rate of graduation from high-school and university is higher for these children and that after the age of 40, they exhibit higher rates of homeownership and better incomes than children who didn't receive early childhood education. These results indicate to us the impact that early childhood education has on people's lives.
It doesn't reach the children who need it.
It might be said that just as Japanese childcare centers played an important role in post-war Japan, early childhood education will play a significant role in the protection of children in developing countries, who are exposed to malnourishment and preventable diseases. However, in terms of the spread of early childhood education, only approximately 40% of the world's children aged 5 years old go to school when the percentage of children in developed countries who receive early childhood education is approaching 100%. It indicates that such education is not becoming widespread in most developing countries.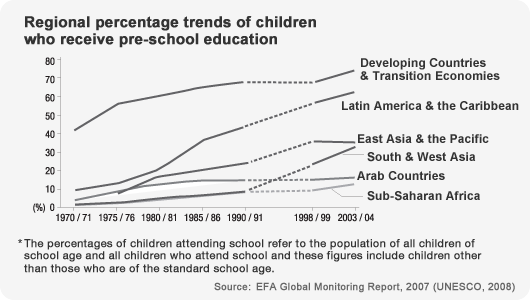 In 2000, 181 countries participated in the World Education Forum that was jointly hosted by UNESCO and UNICEF, "The Dakar Framework for Action" was adopted. Within this framework, which promised to deliver educational opportunities for the world's children, some of the items that were raised included commitment to attain a goal of "expanding and improving comprehensive early childhood care and education, especially for the most vulnerable an disadvantaged children," indicating that the focus remains on supporting early childhood education in developing countries.
However, it is a fact that the governments of developing countries, which have insufficient financial resources, often prioritize elementary and middle-school education. Furthermore, in terms of aid organizations, UNESCO, UNICEF, the World Bank and some NGOs are currently implementing only very small-scale projects in this area. For this reason, direct aid from a developed country to a developing country is yielding only very minor achievements.
Why isn't early childhood education spreading in developing countries? What possibilities does early childhood education have in terms of improving the lifestyles of children in developing countries and social development in those countries?
---
NEXT The potential of early childhood education in developing countries 1.