12 Jan. 2017 Bangladesh
We carried out a training on Right to Food to deliver the issues to the local people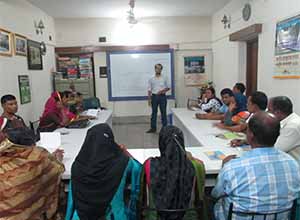 HFW Office in Dhaka held a session for Right to Food for the project facilitators.
Awareness raising
On the World Food Day, we conducted the training on Right to Food in Dhaka, inviting 23 people including the members of the village development organization from Boda and Kaligonji Counties, the project facilitators and the District Council members.
Two journalists and the branch secretary presented the lectures about the approach to obtain adequate amount of safe food, an improvement plan through cooperatives, and the legislation on Right to Food.
The participants understood the lectures well, gained the capacity to provide the workshops to local people and conducted in each village.