15 Oct. 2017 Bangladesh
Continuous support was delivered to girls' education. It was the successful approach.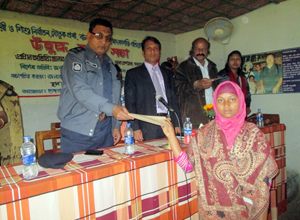 The girls receiving scholarships
In 2013, the scholarship programs have commenced for girls of poor families in Boda and Kaligonji Counties, and are currently helping more than 110 people each year. Many students, however, abandoned their studies due to the arranged early marriage by their parents, and declined the scholarship. Thus, we invited parents and teachers to the reception for grant scholarships this year, and emphasized the significance of education and prevention of early marriage (Aug., Nov., Dec. and Feb.). Also the events to promote the prevention of early marriage were co-hosted by the Ministry of Women the first time in both counties (Feb. and Mar.). As the result of these successful approaches, the number of candidates who declined due to the early marriage was reduced from 15 in fiscal 2013 to five in fiscal 2014.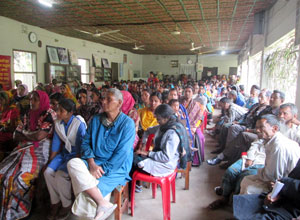 The event to promote the prevention of early marriage participated by approximately 200 people including parents, teachers and local residents
Message from Bangladesh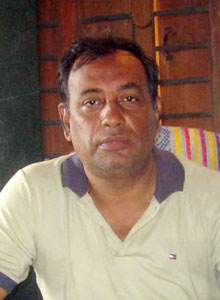 I have three daughters, and made two of them married instead of sending to school for various reasons. I feel guilty because they are having a hard time on account of being unable to help their husbands financially nor express themselves freely. But now I understood the importance of women receiving the education, so I would like to help my youngest daughter to finish her study first, get a job and then marry. I would like to support female students have a bright future by continuing their studies as best I can. (Principal Mizanur Rahman, Mostobapur Secondary High School)