1 Mar. 2018 Bangladesh
The youth started 100,000 people's signature campaign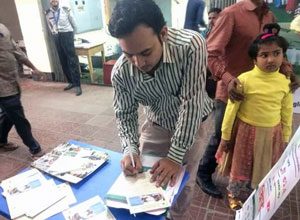 Collect signatures on a university campus after briefing
Advocacy activity of Youth
Bangladesh is drafting "Right to Food Law" to guarantee appropriate food supply to all citizens, which is expected to be passed around 2019. A campaign to collect 100,000 signatures was started so that concrete measures to realize "Right to Food" nationwide should be incorporated into this law. These signatures will be submitted to the Minister of Agriculture as people's voices to add momentum to materializing the law. This campaign is mainly carried out by university students that belong to Youth Ending Hunger (YEH), HFW's youth organization. It was built on the World Food Day, October 16, of 2017, aiming at collecting 100,000 signatures in a year by 2018 World Food Day.
Although Bangladesh is a heavily populated country, 100,000 is a very ambitious number. In order to increase supporters besides HFW and YEH, they invited 50 groups that cosponsored 2017 mock Parliament, which promoted the law, and its participants. They not only appealed for signatures on the Internet but also carried out face-to-face events at various places such as university campuses to collect signatures. In engineering institute, faridpur, a briefing on "Right to Food" was held. There were 100 participants, and 20 participants worked as volunteers and collecting signatures from 400 people. They say they are planning to continue the collecting activities in the same way at other engineering institutes as well. In Girls College at Boda, 10 volunteers participated and collected nearly 200 signatures. They also try to make use of the social influence of renowned people. They asked for a signature to a leading female social volunteer activist Ms. Masuda Faruk Rotna, who is dubbed "Freedom Fighter". She was honored with "Rokeya Padok" award from the government in 2017 in recognition of her contribution to women. By bringing her signature to public attention, it can be anticipated that more people come forward to sign.
As of February 27 (2018), 13,000 signatures had been collected. Although they have a long way to reach the goal, the young people's activities searching for their ways stimulating to the public, steadily increasing the number of supporters. We can expect that people's voices will be the tail wind to enact the law.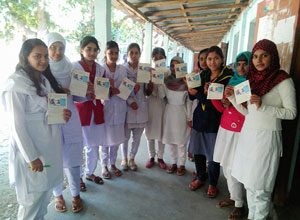 Students who gave signatures in Girls College at Boda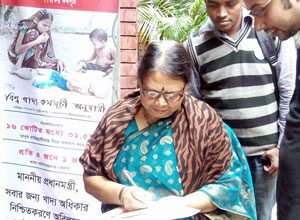 Activist Ms. Masuda Faruk Rotna, who is dubbed "Freedom Fighter", also signed