31 Oct. 2018 Bangladesh
Reached 100,000 signatures in Bangladesh; Push to draft a bill to secure food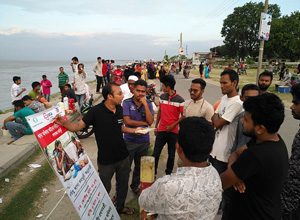 Signature-collecting campaign at the riverside in tourist spots where many young men and women gathered
On October 16, World Food Day of 2017, the Bangladesh branch started operations to collect 100,000 signatures throughout the country, led by YAH Bangladesh, the youth organization of Hunger Free World. In one year up to World Food Day of 2018, 118,100 signatures had been gathered. It exceeded the target number of 100,000.
Behind this achievement, there were efforts by YAH Bangladesh members from areas of Dhaka, Boda, and Kaligonji, 50 groups who agreed with the purpose of the operation, and over 100 volunteers. The campaigns to collect signatures took place at universities, public places, and traffic-laden streets. The Internet and fliers were also utilized. These extended activities for the signature collection enabled us to surpass the target which was considered quite high when the project began.
This signature-collecting task is to urge that a bill to secure food for the whole nation will be carried and a practical policy based on the bill will be adopted. All these signatures will be submitted to Prime Minister as public voices. In addition, we will hold a press conference to announce the outcome of the signature collection. By attracting wide press coverage, we will motivate more people to get involved.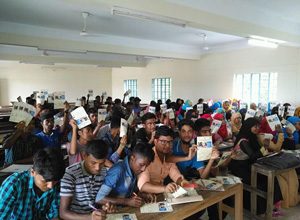 At a university. After explaining what "the Right to Food" is, signatures are obtained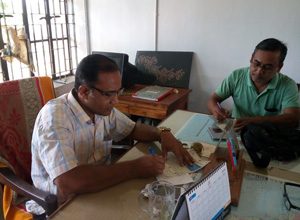 School teachers also signed
Message from Bangladesh
We, young people, can bring great change, and assume a key role to improve our country. Therefore, students must take part in this activity which is to secure the poorest people's rights. This endeavor will have a significant meaning not only for "the Right to Food" for the poor but also for youth employment. I trust this is a time for us to enact a law that includes all issues regarding "the Right to Food".
Rakib Hossain Sajjad(Male/Student, Khaja Yunus Ali University, Sirajganj)
Hunger Free World aims at eliminating hunger and strengthening local people's ability. They are always making efforts especially for poor people. This project involves more people, which I think is a good attempt to impinge on a political party.
Monowara Begum(Female/Farmer)