1 Feb. 2016 Bangladesh
The first National Conference of the Vision 2021 Forum was held in the rural region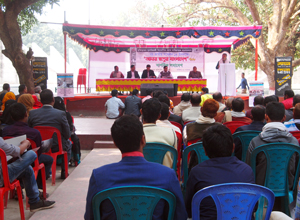 The venue was filled with excitement
Advocacy activities
The National Conference of the Vision 2021 Forum was held in meherpur, Kaligonji County (Nov.). Meherpur is a historical place where the interim Government was established at the time of independence. Approximately 300 people participated the Conference including the local members of the Forum. The participants shared information about the past activities and current situations among them, and a spate of passionate statements was seen towards the resolving of hunger issues. The first National Conference outside Dhaka was the rare opportunity to get onto the latest information and reaffirm the commitment to the activities for members living in rural areas where it is difficult to get information.
* 1 The national network which was established in 2005 by hunger free world (HFW), aiming to end the hunger all over the country by the year 2021 celebrating the 50th anniversary of independence.
* 2 'The network calling for safety promotion of agricultural products in Bangladesh.' HFW played a central role to launch.
* 3 STAND UP TAKE ACTION - The action taken to seek the solution for poverty issues.