28 Oct. 2010 Bangladesh
Students graduated primary school run by HFW in Boda County. They are the first graduated students.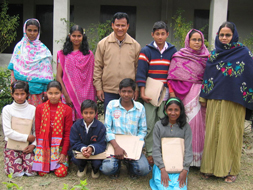 The first graduation ceremony
Operation of the Shuniketon Pathshala schools
In January of 2006, HFW built a primary school in Boda County, an area where we are active that has few pre-existing schools. Children of kindergarten to second grade age enrolled to form its first class. Those seven children, who at that time were second graders, completed their fifth grade curriculum* in February of 2010 and become the school's first graduates. A national-wide test was initiated by the government in 2009 to assess whether or not a child is qualified to move up to secondary school. Those seven children passed the test with excellent marks and were therefore able to move up to the next level of their education.
And, while the attendance rate at most primary schools in Boda Country is around 60%, according to the local government, the rate at the HFW-run school is over 92%. A top-quality education is not the only thing the school has to offer. They also provide school lunches made using the crops at the nearby HFW-run center for organic farming, as well as offering social studies field trips and a variety of other extra-curricular activities. In regards to the 2010 school year, 35 applications were evaluated for a variety of things, including a willingness to learn, and 23 of those children were accepted into the school.
Message from Bangladesh

Being able to graduate from primary school is the best thing that has happened to me. But leaving the school is very difficult. The other students were like siblings to me, and the teachers were as close to us as parents. The school was like a family. Watching HFW activities made me realize that I also want to become a leader who can contribute to my country's development.
Muhammad Abdullah Razik, a graduate