1 Apr. 2010 Bangladesh
Organic vegetables lunch of school is added to education program that combines agricultural field.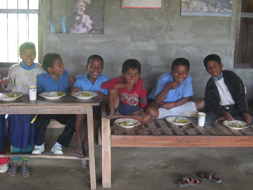 Children getting hands-on experience with organic farming in the special education program
Promoting nutrition and healthcare among school children
HFW operates elementary schools in Boda county and Kaligonji county. Both of these counties are severely poverty-stricken areas in Bangladesh. Most of the 387 children in these two schools are only able to have one or two meals a day, which are not nutritionally well balanced; they mostly consist mostly of carbohydrate food, such as rice. This kind of poor dietary situation can present serious problems like underdevelopment for growing children. HFW therefore has been offering a school lunch program at the two elementary schools since April, 2004 in order to improve their nutritional level.
In January, 2007, HFW initiated a unique education program at the elementary school in Boda county that is aimed at combining the lunch program with a kind of education which will help enhance the children's future life skills. The main industry in this area is agriculture. Most of the children from the local schools will be doing agricultural work when they grow up. In view of this local situation, HFW set up a special class to teach farming and nutrition for 60 minutes every week at the HFW-run Organic Farming Center adjacent to the elementary school. Children first learn in the classroom how to produce organic compost, how to grow a variety of products according to the season and how to keep bees. They also learn about nutrition. They are then given an opportunity to put what they have learned into practice at the Center. Vegetables and honey they harvest with their own hands are included in their school lunch every day.
Children are able to enjoy their own harvest, organic, safe and nutritious and they can deepen their understanding of nutrition by actually eating nutritious food at school. They often take their newly acquired knowledge back home to teach their parents, thus improving their family nutrition as well.
HFW is planning to implement the same special education program as Boda county in Kaligonji county when the new Organic Farming Center is completed in the 2010 fiscal year. Based on the results of health check-ups that take place every month at both schools and with the advice of a nutritional expert, HFW will continue to improve the quality of both the school lunch and the special education program.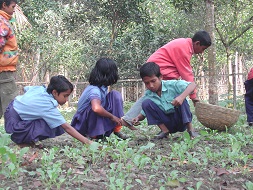 Pupils experience organic farming as special lessons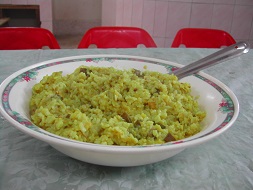 'Kechuri', a rice dish cocked with beans and vegetables, is very nutritious
Message from Bangladesh
I am learning about organic farming at special classes once every week. I have learned how to grow multiple crops all at the same time on a small plot. My mom has to grow vegetables on narrow strips around our house. I think what I'm learning can be applied to her garden. At home, my mom and I talked about what I learned at school, and we are going to try this new method at our home garden. I also learned the importance of eating safe produce in order to stay healthy.
Ms. Rashida Begum, Grade 4, Boda county