1 Apr. 2010 Bangladesh
Our Scholarships for women are supporting the independence and social participation of women in Bangladesh.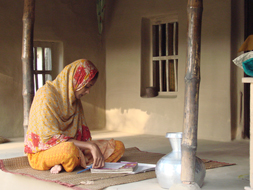 A scholarship student studying hard at home
Scholarship for higher education for women
In Bangladesh, women have a low social status and, particularly in the case of poor families living in rural areas, boys are given priority over girls when it comes to schooling. For this reason, women have limited opportunities to receive an education. Inability to receive an education is also a factor that hinders women from getting the jobs that they want and participating in society.
HFW has been operating the Hunger Free Women's Scholarship Project in the counties of Kaligonji and Boda since October 2003. Each year, we support 30-70 girls who attend primary schools (grades 1-5), high schools (grades 6 to 10) and colleges (grades 11 and 12). To date, a total of 300 girls have been the beneficiaries of 40-255 Taka (approximately ¥60-345) per month. The money received goes towards the costs of tuition fees, text books, lunches and public transportation.
Four years have passed since the project began, and in that time scholarship students have graduated and gone on to achieve their dreams of becoming primary school teachers and workers involved in rural development, and among other occupations. Not only have these women become capable of being financially independent in a society in which it is difficult for women to work, they are also contributing to the development of their local communities through their jobs. Moreover, they are living proof that women can be independent and because of this, they are changing the attitudes of the local people.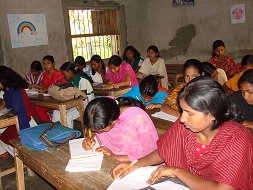 Candidates attending the final scholarship examination
Message from Bangladesh
I wanted to receive a higher education, but my family is very poor and so it wouldn't have been possible for me to continue my studies. This scholarship has given me the chance to do so. I want to work hard and become independent so that I may support other young women in the future.
Ms. Arjufa Akhter, a female 12th grade student, Dabuna village, Kaligonji county