12 Dec. 2012 Bangladesh
Women active in starting their own businesses to generate income for their daughters.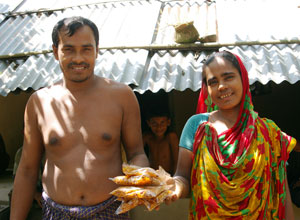 Cheerfully making confections with their husbands, to generate income for their daughters Holding chanachur for sale, a smiling Halima (on the right) with her husband
Grant to promote small business for women
In agricultural areas in Bangladesh, most women have their partner chosen by their family and relatives. The marriage age is 13 to 15 years. These women do not receive a proper education, and if their husbands die, they have no means of generating an income. In order to help these women become self-reliant, established the "Keep Smiling Award for Women" in 2005. It is a grant to promote small businesses. Particularly deprived women in the region are screened for their willingness to take on a small business and are offered funding.
Halima, chosen for the prize in 2009, received a prize money of 3500 takas (approximately 4500 yen) as capital. She set up a business making a spicy snack called "chanachur". Together with her husband, she kneads the bean flour paste into noodles and fries them. They make 50 to 70 bags a day. The product is sold at homes or at markets in the neighbourhood, at a profit of 1 taka (approximately 1.25 yen) for each bag sold. Halima, who named her chanachur brand after her beloved daughter, happily states, "since starting this business we have been able to afford essential educational materials for our daughter, such as textbooks."
Since 2005, the prize has been awarded to 151 recipients. A wide variety of businesses has been established with the prize money, ranging from furniture workshops to general stores. From 2009, 14 groups have been selected for the group award. Their ideas included the raising of cattle for sale during Islam's Eid ul-Adha (Festival of Sacrifice), when they can be sold for a higher profit. Included in this are women who start new businesses, and their success encourages women throughout the area.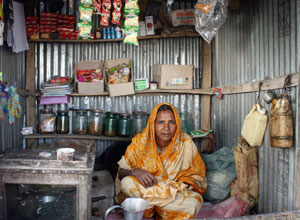 A woman who opened a small grocery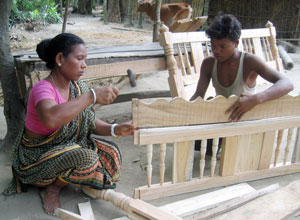 A woman who started a furniture-making business. Her son helps the business too.