1 Nov. 2007 Bangladesh
A "Women Award" is established to encourage women as they work to better their own situation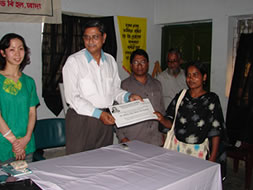 Helena Aktar receiving her prize certificate at the award ceremony.
Grant to promote small business for women
Women Ending Hunger (WEH) has 435 members in the three areas in which it is active, Boda, Bhanga, and Kaligonji counties. The impoverished women in each of the areas work together to help each other and become more independent. On International Women's Day (March 8th), the women each gave five taka (¥10) to buy goats for the poorest women in each area.
In March 2006 HFW established a "Women Award" to promote these kinds of self-help initiatives progress even further. WEH nominates women from each area that are already taking part in projects to increase their independence, such as running a small shop or sewing business. The two women who are selected to receive the prize are each awarded 3,500 taka (¥7,000) to support their business. The prize money comes from interest on funds in a bank account maintained by the Bangladesh affiliate office, so it should be possible to continue awarding the prize in the future.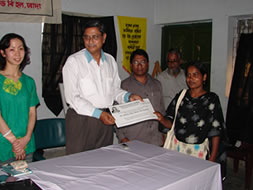 The award ceremony was wrote up in a newspaper.
Message from Bangladesh
I was very poor so I couldn't go to school and was married when I was fifteen. But my husband was only after my dowry and divorced me after two years. Then I went back to my parents house, and soon after that my father died. It was very hard to support six family members on only my mother's earnings as a day laborer and my sewing. With the prize money and 700 taka I had saved on my own I was able to buy a sewing machine, and since then my income has doubled. I hope to be able to save money and give my younger sisters an education.
*dowry: the money, goods, or estate that a woman brings to her husband in marriage.
Women Award winner Helena Aktar, 23, a resident of Boda county.