1 Apr. 2010 Bangladesh
Teaching the production of organic fertilizer environmentally friendly and budget friendly.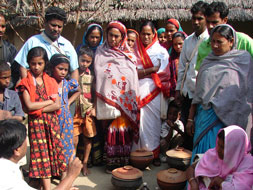 It takes a few months for cattle manure to become ripe compost in pots
Center for Organic Farming for sustainable agriculture
HFW has been promoting organic farming since 2004. Among the organic farming training courses we offer to local farmers, the course on producing organic fertilizer is especially popular. So far, about 200 students in Boda Thana (county) have taken the training course, as well as about 80 in Kaligonji Thana.
Skyrocketing raw material prices world-wide have become an unbearable burden to most farmers. It is no wonder that interest in organic fertilizer is growing. However, the fear of possible poor harvest due to a sudden shift from chemical fertilizer to organic fertilizer is real and not easily overcome, particularly for subsistence farmers who depend on farming for their livelihood. The best way to remove their fears is to give them an opportunity to try it out and see for themselves. At our training sessions, we first teach them how to produce manure compost, and then encourage them to try it in a small corner of their field first. As farmers grow more confident with organic fertilizer, HFW assists them in construction of large scale manure compost plants. It is critical in flood-prone Bangladesh to build concrete manure plants that are capable of keeping compost from being washed away.
Building a compost plant generally costs about 7,000 Taka ( ¥14,000). HFW pays about 4,000 Taka (¥8,000) of that amount. So far, 15 farmers in Boda and 10 in Kaligonji have built compost plants with the assistance of HFW.