15 Oct. 2013 Bangladesh
The long-awaited examination by gynecologists have started. That can make mothers' safe childbirth.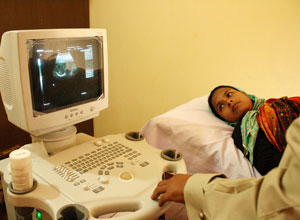 Pregnant women can now receive prenatal care in their neighbourhood and see echographic image of their babies.
Health care center for mother and child
The health care centre for mother and child that started full operation in 2008 in Boda county is known to local residents as a hospital they can use with confidence. However the centre did not have an obstetrician or a gynaecologist and lacked sufficient equipment. A clinical laboratory was established in September 2011, where pregnant women will receive blood tests and ultrasound examinations. It makes it easier to detect difficult pregnancies such as breech baby and abnormal placental position at an early stage, giving more chances to save lives of babies and mothers. In fact 497 people received the examinations by the end of July 2012 and appropriate treatments were given such as prescribing iron to pregnant women with anemia and referring expectant mothers who need cesarean section to a large hospital.
Furthermore a monthly examination by a female obstetrician and gynaecologist started in October 2011 and weekly examination by a male doctor started in February 2012. By the end of July 2012, 472 people had been examined. Now we are able to check the condition of pregnant women and give them health guidance as well as treatments if needed. (Anjuman Actor: Programme director, HFW Bangladesh)
*Since women in Bangladesh generally dislike being examined by a male doctor, we tried to look for a female doctor who can work in a rural area once a week. We spoke with all female doctors in neighbouring areas. They are willing to work however it was difficult to get support from their family mainly husbands and mother-in-laws, therefore we decided to hire a male doctor. As the male doctor is skilled to make female patients feel comfortable and is a good listener, most women wouldn't have a problem with being examined by him with the exception of some conservative women.
*This project is subsidized by the Japan International Cooperation Foundation.
Message from Bangladesh
I lost my first child 8 months after birth. When I was pregnant with my second one, I had pain in my stomach so I went to see a doctor at the centre and the doctor recommended that I undergo an ultrasound examination. I did it on the very same day. I saw my baby's head, both arms and the beating heart. I was moved to see the image of my baby and relieved to know that it was growing well. The doctor told me to rest during the day and not to carry heavy stuff. I couldn't believe that I was able to see my unborn child so easily. Also it costs way less than at a hospital in a city. I hope it will be born safely.
(Salina delivered a healthy boy in December 2011.)
Salina Begumu, Kumarupara village