1 Apr. 2010 Bangladesh
Under construction which is scheduled to be in December, 2008. For health care center for mothers and babies.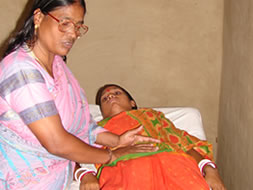 A pregnant woman at a check-up in a temporary clinic
Health care center for mother and child
In Boda county in the northern part of the country, where HFW is active, 18% of babies die before their first birthday. The reasons for this include: many young mothers bear children while they are undernourished, so there is a high risk of complications during birth and illness after birth; a high percentage of deliveries take place without any help from a properly trained midwife; and many others.
HFW therefore has offered a temporary medical clinic at the HFW-run organic farming center once a month since May, 2006. The clinic treats roughly 100 mothers and their babies every month in cooperation with local health workers. An immunization program is also in place for new-born children with many kinds of vaccines.
Since the closest medical cennter with a fully equipped delivery room is about 20km away from the village, many mothers are forced to give birth on a straw mat at home hygienically far from ideal conditions. All the villagers would like to have a new medical facility in the village.
In response to this need, HFW began construction of a new health care center on December 25, 2007, in order to provide villagers with medical care by doctors in a sanitary facility. This health care cennter specifically targets mothers and babies who live in 10 villages with a total population of 11,000.
After the completion of the center, which is scheduled to be in December, 2008, many plans will be put to work to establish an environment for all women to have a safe childbirth. For instance, projects like training local midwives to upgrade their skills will be offered.