17 Jul. 2021 Burkina Faso
Training enabled the residents to manage the school lunch program in four villages independently.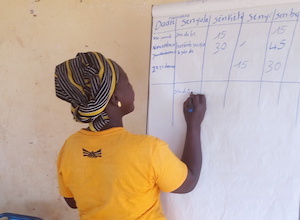 The participant learned how to manage inventories by actually keeping a record
HFW has been supporting the school lunch program in four villages. In December 2020, we provided training to residents of the villages to enable them to manage the program by themselves. Up to now, 28 members of the school lunch committee who have been managing the school lunches in each elementary school participated in a 3-day course on fundraising, storing ingredients, and a systematic approach to utilizing ingredients.
HFW's school lunch program started in 2006 in an elementary school in one village. The activity slowly expanded to four elementary schools where we have been providing support. Since 2015, the villages have been working to strengthen their management capabilities to a level where local governments, schools, and parents can manage the school lunch program by themselves without relying on funding and support from HFW.
Our efforts have paid off. Until 2018, HFW has been providing a large portion of cooking utensils and ingredients. However, in 2019, it has provided only a third of the ingredients provided in 2018. In 2020, the villages became fully capable of managing the school lunch program without receiving any goods from HFW. This is largely due to collaboration with cooperative women's groups in each village that HFW supports separately from the school lunch program and parents starting to provide ingredients after understanding the importance of school lunches. In addition, the arrangement of parents in villages taking turns to prepare school lunches is going smoothly.
From now on, the school lunch program will be fully managed by the residents themselves. HFW will commit to watching over them by regularly monitoring the villages to make sure the school lunch committee in each village is managing ingredients and funds appropriately.
In order to prevent the spread of novel coronavirus, all the educational institutions in Burkina Faso have closed down as of the end of March 2020. In June, classes of only the highest grades of each educational institution (elementary, junior high, and high schools) reopened, and classes of all other grades reopened only in October.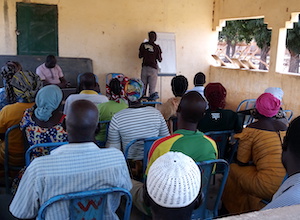 School lunch committee members (such as teachers, village trustees and parents) from four villages participated
Message from Burkina Faso
Through this training, I learned how to store ingredients and manage inventories by keeping a record. Thanks to the training, I can now quickly check the ingredients taken in and out and reporting the status. This will help us to gain trust from all people participating in the school lunch program. Up to now, HFW has taught us the importance of improving the community through initiatives taken by the residents. In the future, we will include the entire community members to promote the development of a harmonious community. Finally, I would like to express my appreciation for helping us recognize that we, the village residents need to take action by ourselves and provide us various supports.
Ms. KAGAMBEGA Monique(Chairman of the Mother's Association, Gomtoaga Village Elementary School)