24 Jan. 2022 Burkina Faso
The food storage for the poor has been self-sustaining from HFW support.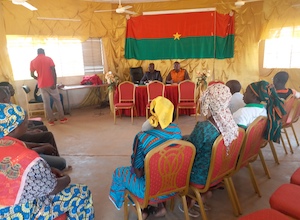 We have been improving our operating conditions through regular meetings at the town hall (photo taken in 2019)
In Burkina Faso, food storages have been established in each county to sell food at low prices to the low-income families. However, in the Commune of Koubri, where Hunger Free World (HFW) works, the food storage has not been able to fulfill its intended role due to inappropriate management methods. Since 2018, HFW has been supporting residents to advocate for the improvement of the operation of the it in Koubri, and has achieved positive results. From now on, the residents and the local government, who form Steering Committee organized with the support of HFW, will be responsible for the management, operation and improvement of the food storage.
---
The regular management meeting of the food storage was held in December 2020 at the town hall and was attended by representatives of Koubri government, food storage managers, representatives of four villages where HFW operates, and the project facilitator and HFW staff. The meeting discussed the evaluation of the project for 2020, identification of issues, and better ways to provide food.
For example, it was reported that the government replenished the stockpile on-time every time, and that more than 400 tons of grain was supplied throughout the year 2020. Compared to the beginning of the project, when there was no food in the stockpile and the food was supplied to relatively wealthy people who were not eligible to use it, and poor people who needed inexpensive food more were not able to purchase it, the operation has been greatly improved and the results are definitely positive.
On the other hand, it was shared that the grain provided were mostly maize, with a small amount of millet and sorghum. This was mentioned in the survey by some users who complained about the lack of diversity in the grains.
Even after this advocacy has improved the operational situation, HFW has continued to work to ensure that the improvements are maintained and promoted through regular inspections and the establishment of a framework such as the Steering Committee for consultation between the government and residents. HFW has also strengthened the monitoring and advocacy capacity of the local residents by attending meetings with their representatives.
With these things on track, as of the December 2020 meeting, HFW has decided to complete its support of the project to improve the operation of the food storage, which supports the realization of the "Right to Food" for a population of about 60,000 people in the Commune of Koubri. From now on, the Steering Committee will operate the project without HFW, taking into account the voices of the residents. They will start working on the issues that have already been raised, such as the lack of diversity in the grains.
(The information is as of the end of 2020.)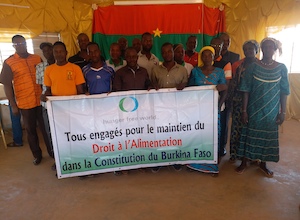 The meeting was attended by commune officials, store managers, and representatives of residents (photo taken in 2019)