No.28   13 Sep. 2011
Nutrition, protecting the lives and the future of children.
-Children's hunger-

INDEX
P1

Nutrition, protecting the lives and the future of children.
-Children's hunger-
Every year 8.8 million children around the world die before their fifth birthday. Over one third of these deaths are caused by malnutrition and related causes. Why does malnutrition occur? There's a tendency to think it's because food is unattainable but this is not the only reason.
---
Malnutrition is the result of an inadequate intake of nutrients needed to live healthily. The assumption that it's simply a matter of the amount of food consumed is only one part of the problem. Malnutrition can be divided into two main types. The first is a calorie deficiency, also referred to as Protein-calorie malnutrition, arising when the calorie intake is insufficient to satisfy the body's nutritional needs. When this happens, the nutrients absorbed into the body decrease causing a shortage of nourishment in general. The number of people who suffer from this type of malnutrition world-wide, also known as the hunger population, totals 1.02 billion. The other type of malnutrition is a nutrient deficiency. This is caused when the body's calorie intake is adequate but there's a poor balance of essential nutrients. There are over 2 billion people around the world who suffer from this form of malnutrition which is also called the "hidden hunger."
Nutrients cannot be seen. It is not exactly known what will happen where there's a deficiency but the effect on the growth of humans, especially children, is very grave indeed.
Causes of death in children under the age of five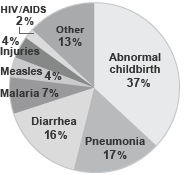 One third of deaths of children under 5 are caused by malnutrition and related causes.
Source: Tracking Progress on Child and Maternal Nutrition, UNICEF
---
Not only a question of volume, the effect of nutrient deficiency.
Measuring circumference of an arm is one of means of diagnosis for malnutrition that is hard to detect from appearance
Measuring circumference of an arm is one of means of diagnosis for malnutrition that is hard to detect from appearance
When we hear the words "malnutrition" or "hunger" most people imagine thin, weak bodies. This is one effect of a calorie deficiency. The body gradually loses weight and in more serious cases becomes malnourished. Further deterioration leads to extreme weight loss and dehydration. The worst cases end in death. But what problems arise from a nutrient deficiency?
For example, see protein *1. When a growing child cannot acquire enough protein their growth is stunted, their weight does not increase and their muscles do not develop. Problems are caused by underdeveloped internal organs and overall physical strength deteriorates. In even worse cases, fluid retention increases and the body swells into a state known as "kwashiorkor". The word means "the sickness the baby gets when the new baby comes" and comes from one of the languages of Ghana, West Africa. The disease occurs when the first child is weaned off breast milk to accommodate the second child and fed a diet consisting mostly of food high in carbohydrates like potatoes and rice even though the first child still needs mother's milk.
Also, vital to the immune system is vitamin A *2. Vitamin A deficiency causes the body's resistance to disease to weaken and one becomes more likely to catch diseases such as pneumonia and diarrhea. Recovery becomes more difficult and the risk of death from such diseases increases. See also iodine *3 and iron *4. Lacking various nutrients has a substantial effect on the body.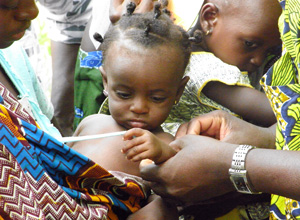 Measuring circumference of an arm is one of means of diagnosis for malnutrition that is hard to detect from appearance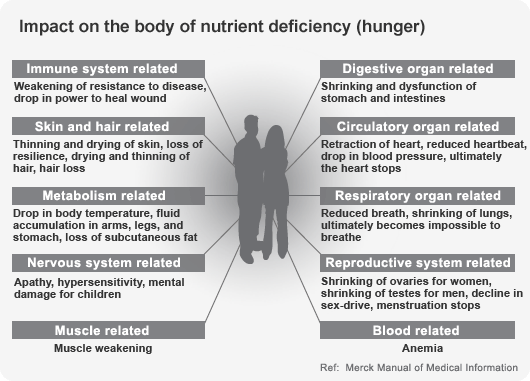 *1 Protein fundamental for physical growth. Protein deficiency in infants causes stunted growth and developmental retardation such as speech impediments.
*2 Vitamin A deficiency causes a weakening of the immune system. Diseases become easier to contract. Also causes eye diseases and in worse cases leads to blindness.
*3 Lack of iodine can cause severe swelling of the neck and thyroid gland goiters. A deficiency in children causes damage to mental development and impedes physical growth.
*4 Iron deficiency is one cause of anemia. Raises the danger of excessive bleeding at birth. Anemic mothers often give birth to anemic children.
Source: UNICEF website
---