No.28   13 Sep. 2011
Nutrition, protecting the lives and the future of children.

INDEX
P3

What can be done to protect children?
What can be done to protect children?
How can we prevent children from malnutrition?
When we hear about nutrition improvement, many people imagine international organizations providing aid through distribution of food like nutritional biscuits and supplements. Of course, this kind of aid which provides supplements and engineered food high in specific nutrients is very important.
On the other hand, when you consider that there are malnourished children in regions with sufficient food, and nourishing food is not reaching many women and children, the aforementioned aid still leaves some problems unsolved.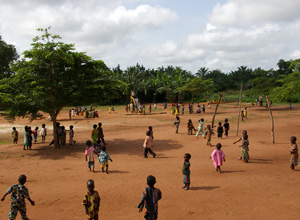 Children playing in the schoolyard of a kindergarten in Benin
---
The difficulties aiding culturally-rooted eating habits.
Eating is an activity deeply rooted in a culture, so it's a difficult area to provide aid in. Imagine suddenly being told, "you're not getting enough nutrition, so change your staple food to potatoes and eat them every day" when your staple is rice. It would be difficult for most people to do this. There are probably many who have even had trouble getting used to a slightly different tasting soy sauce or miso soup after moving to a different region within Japan.
It's the same for the people of developing countries. The food, cooking style, preferred taste and frequency of meals is an age-old tradition which is not easy to change no matter who tells you to. For this reason, it is desirable to develop ways to improve the nutrition of people using indigenous food and existing regional eating habits. The challenges are ensuring there is enough food material to combine to make nutritionally balanced diet from the region to last throughout the year, making sure the people know who needs the food the most, and making sure they have the knowledge and skill to use the food effectively.
Nutrition is a daily and life-long necessity. The success of our intervention depends on ensuring sustainability using locally produced food with participation from the local people, and perhaps incorporating a regional or national framework.
However, only a little money is allocated for nutritional improvement even in the aid from developed countries and in the developing countries' health budget. Despite the fact improved nutrition is connected to economic gain from the rise in the people's productivity. More of the population becomes resistant to disease so their medical expenses fall, and by the same token the whole country's medical expenses fall. Within the field of health, we may be able to expand support and expand measures for nutrition by reposition the status of nutritional improvement as preventive medicine. It will lead to protecting the lives and futures of children all around the world.
Improving children's nutrition with locally-grown food in cooperation with Burkina Faso's state-operated health center
In Burkina Faso, West Africa, one in five children dies before their fifth birthday. Since 2005 HFW has been working to improve the nutrition of approximately 4500 children under five in cooperation with a state-operated health center.
This work to fight malnutrition for infants and mothers was originally a government-run, nation-wide program but due to lack of funds most of the centers closed the program. HFW restarted the program at one of the health centers in the Koubri County, about 25km from the capital, using existing buildings and materials and re-hiring original staff.
Through health checks in the center and travelling check-ups in villages malnourished children can be identified by measuring their weight, and arm and head circumferences. Children who are diagnosed with malnutrition go to the center with their mothers for regular examinations. By measuring the weight of children and recording the degree of their development assessments can be made as to if they are growing appropriately for their age.
In addition, there are two prime concerns. The first is to teach mothers how to make nutritious, well-balanced porridge using easily accessible ingredients which most farms produce or which are sold locally including millets (cereal crops), a condiment made from Néré fruit called sumbala, peanuts, beans, salt, smoked fish, etc. Combining existing local ingredients it has become a good source of nutrition for children.
Our second prime concern is the education of mothers. Guidance is given concerning the appropriate quality and correct frequency of meals for children, the best time to wean children off breast milk, sanitation and prevention against infectious diseases like malaria.
In year 2008 alone, over 600 infants had medical examinations. A total of 126 of these children improved their nutritional state through medical treatment and regular health examinations. During the four years of work in this region not one of the children who recovered from malnutrition has relapsed into an undernourished state. Due to this continued success, in 2008 HFW's nutrition improvement project has been placed in the regional administration's health policy. HFW will continue its work and report the results to the government, hoping the national government to restart these kinds of operations on a national scale.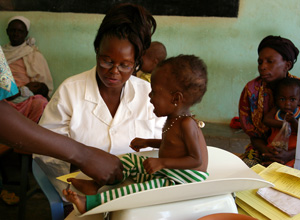 Diagnosing malnutrition by measuring a child's weight at a periodical health examination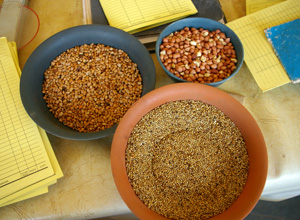 Ingredients for nutritious porridge, locally available millets and peanuts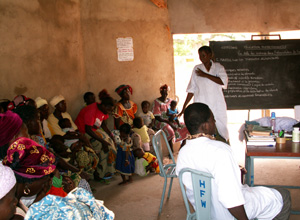 Teaching mothers sanitary practices to prevent diarrhea and malnutrition
Ref: Coping with food crisis from the perspective of nutrition, Seminar series, a year after the sudden rise in food prices No. 4. Co-organized by Africa Japan Forum, Japan International Volunteer Center, Meiji Gakuin University International Peace Research Institute, Hunger Free World joint sponsorship, Merck Medical Manual, The State of the World Children 2007, 2008, 2009, UNICEF, "An End to Children's Hunger," from the press release of UN World Food Programme, Tracking Progress on Child and Maternal Nutrition, UNICEF
---