15 Sep. 2017 Benin
Some new ingredients were introduced to the nutritional improvement project by Morinaga,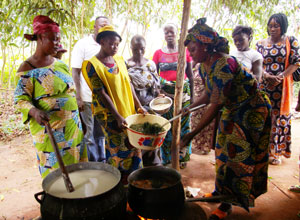 The local residents were introduced to the featured recipes with new ingredients to cook popular meals.
Two highly nutritious ingredients were added to improve the nutrient effects for children in the nutritional improvement project, which has started in 2010. One is the Moringa (horseradish tree), native to Gbeto village. Vitamins and minerals are abundant particularly in the Moringa compared to other food sources. The other one is the mushroom that is easily cultivated with the village materials at a steady pace in a short period. Up until now, the local residents were not familiar with either of the ingredients. Therefore, the training sessions have been conducted to teach how to cultivate and use those ingredients, and organized the workshop for fathers who have the power to make the final decisions at home. In FY 2015, Moringa has been scheduled to grow as well, and the local residents are also looking forward to it.
Message from Benin
I participated in the workshop designed for fathers. The introduced ingredients such as Moringa and mushrooms improved the nutritional status of the children in the village. Those unfamiliar ingredients gave us real effects. We would like to spread the nutritional knowledge around mothers who reside in the same village, and even to the village, which wasn't even covered by the nutritional improvement project.
Ms. Dassi Mathias  (Agondotan village)