12 Mar. 2020 Benin
Community residents and county staffs visited local government, a model for land management to get the know-how.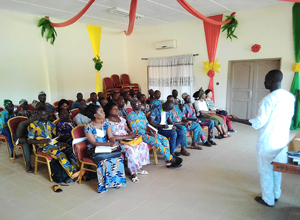 Visited Ouidah city. The staff explained in details and told us his/her contact information so that we could contact him/her anytime if anything happens.
As a result of advocacy activities in December 2018 in Zé county where HFW conducts activities, management organizations of land were newly set up in March 2019; a land management committee (COGEF) and a village asset management department (SVGF)  (click here for more info). HFW started to strengthen their abilities not to lost substance.
On May 31, total 30 people including a staff in charge of land in Zé county, 12 each mayor and property management department secretary in Dodji-Bata district, four members of advocacy committee, and a district chief along with four HFW staffs visited the city halls of Allada city and Ouidah city. The purpose of the visit was to learn the organization and function of COGEF and SVGF from two foregoing local governments. These two set up GOGEF and SVGF before Zé county, because persons in charge were enthusiastic, and adequately manage the residents' land.  Both are close and similar to Zé county in terms of the environment surrounding the area, thus easy to consult when something goes wrong.
When visited, staffs from these cities explained along with case studies that they worked on. A new land law requires all residents to submit land registration forms, so it is a challenge how to deliver information to all people and have them give in their land registration forms. For that reason, they call at every place to give detailed explanation. They also gave us the details, including how to provide commentary in an easily understood manner and to process issued documents concerning land management.
Staff in charge of the land at Zé county office also joined this visit, because we would like him/her to work with the sense of responsibility and leadership through learning how enthusiastically the staffs in other local governments work. The delegation included the mayor, the top of SVGF. Thus, HFW aims for residents' lands to be managed appropriately in cooperation with local government and the residents.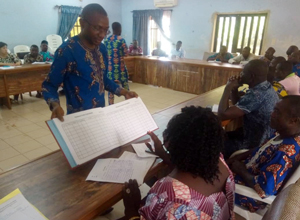 Visited Allada city. The staff showed actual samples to explain how to create documents in an easily understood manner.
Voices from participants
I'm honored to participate in this activity. I'm very grateful to HFW. I could learn lots of things regarding land management. Governments of Ouidah and Allada are very advanced in applying the land law, but it's just begun in Zé county. There is no opportunity in other areas to learn from these two local governments like this. So I would like to utilize the knowledge that I obtained to make people happy on the site.
TOKPONNON Cyrille : Chef Village de Gonfandji (Président de SVGF de Gonfandji)
The mayor of Ouidah was too busy to set aside time, but I'm happy that the visit was realized in a short time from request. At present, each local government is obliged to manage land following the new land law, and the Dodji-Bata district should follow it too. I am responsible for complying with the law, so I will collaborate if further explanation is necessary. This visit was also helpful for me in fulfilling my duties as a city official.
ZOUNTCHGbe Aristide(Principal Communicateur de la séance de Ouidah)