12 Mar. 2020 Benin
Motorbike taxies spreading important knowledge of nutrition and healthy food environment for adolescent girls.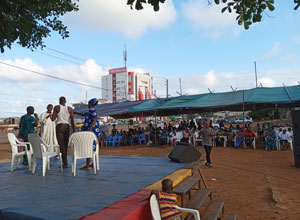 YEH members effectively send the message by skit
An enlightenment meeting was held in the city of Calavi on September 7th, with the special focus on young women's nutrition and healthy food environment. Until now, local people have gained relatively good knowledge on the importance of the nutrition of pregnant women and elderly people. However, we have not yet given any spotlight on the nutrition of adolescent girls, who are potential mothers in the future.
Fifty three women and 90 men participated in this meeting. Among male participants, motorbike taxi drivers were invited as a potential actor to share the knowledge on the importance of nutrition for adolescent girls. Motorbike taxi is a very common means of transportation in Benin. These taxi drivers have many chances to communicate with local people during work. This means their good capacity to effectively spread what they have learned in the local community.
This meeting addressed following topics through skits: the effect of nutrients on human health, importance of diverse diet, balanced food menu, need of taking micronutrients (e.g. vitamins and iron) as well as food hygiene. The skit was made by a team of HFW and local members of Youth Ending Hunger (YEH), and the actors were all selected from YEH. On this day, the representatives of YEH Burkina Faso also joined to learn how enlightenment activity is done in Benin.
The evaluation sheet for the participants revealed that all 135 participants have learned new things about the nutrition and healthy food environment. Now, we are going to take one step further –not only did these participants learn today but also will spread this new knowledge into their community.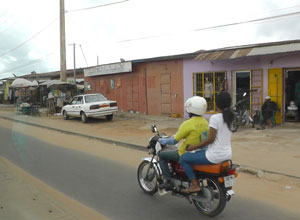 Motorbike taxies as a daily transportation means of local people
Message from Benin
The themes which YEH selects is always essential to our lives. After their talk, I'm sharing with my customers what I learned about food hygiene and nutrition for adolescent girls.
Aïtoto Olivier (Motorbike taxi driver)
Through this meeting, I learned that the members of YEH Benin were doing very good research on their topic and effectively communicating to the audience. I think that skit, the method to visualize the issue and inspire audience for the solution, is a wonderful tool that we can also use in Burkina Faso.
KOTE Mahamadou (YEH Burkina Faso)