19 Jun. 2018 Benin
Held a workshop to introduce nutrition-efficient way of mixing grain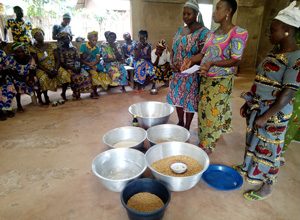 While explain the ratio of flour, they blended in practice various kinds of flour in front of the participants
expecting propagation of the knowledge in the region.
On March 19th and 20th, a training session of nutritious grain was held in the Beto village's literacy class. Forty-seven people from four cooperatives, 37 female and 10 facilitators of the project, participated. Based on the survey in 2017, many children under 3 years old are suffering from malnutrition due to the lack of knowledge of food which should be given to little babies. In this training session, participants learned the importance of nutrition, nutrition-efficient way of mixing grain, and how to make nutritious porridge with it. They aim to improve the nutrition of the children of the whole region they do activities by propagating the knowledge. Therefore, we selected people who has literacy and can communicate what they learned to other residents as participants.
In this training session, we taught grinding local materials such as maize, soy beans, rice and peanuts into flour and blend them in accordance with recipes. Grinding grains into flour makes it easier for small children to digest and absorb nutrients. Combining three, or four different varieties of grain enhances nutrition more than using only one kind of grain. We invited a leader of an authoritative group in nutrition field from Zé County, and we got various advice.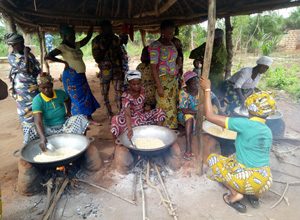 Learning through the first-hand experience to remove extra water to extend the length of period it keeps
A message from Benin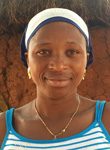 Thanks to this training session, I learned how the way to blend flour in a nutritious manner. I used to use only peeled peanuts without soy beans. Now that I learned three different recipes of blending flour for nutritious porridge, I would like to prepare and provide these varieties of flour for the households with necessity to recover malnourished children in the village.
Ms. LISSANONCélestine (A facilitator of nutrition improvement project who also trades flour)