1 Apr. 2007 Benin
The first literacy education course was completed. 14 participants were given their certificates of completion.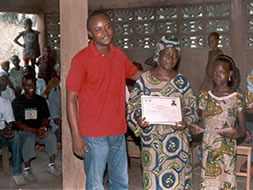 Women receiving graduation certificates. On the left is YEH Benin's deputy national coordinator
Literacy for youths and adults
The first literacy education course, which was begun in 2004 and targeted both adults and young people, was successfully completed this year. At a graduation ceremony in March 2006, the participants were presented with certificates issued by the government of Benin as well as HFW's certificates of completion. There were 14 graduating students, including six women, who had all completed the entire literacy education course and passed the final exam.
There were also some other students who took part in the classes but declined to take the final exam. Having experienced this kind of education for the first time, they were apparently uneasy about being tested. In order to avoid this kind of uneasiness over the final exam, we plan to include many smaller tests throughout the course in future.
Many people from the village gathered on the day of the ceremony, including members of YEH Benin. Inspired by the sight of graduates proudly receiving their completion certificates, some of those in attendance expressed a desire to attend the next course. The ceremony also provided an opportunity for YEH Benin and local residents to come together in reaffirming the importance of education for both adults and children, and in doing so, encouraged participation in the construction of a kindergarten currently underway.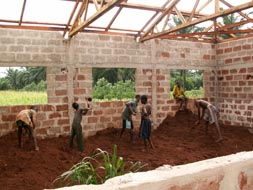 Whole community joins hands to construct a kindergarten