1 Apr. 2010 Benin
Construction of well at kindergarten providing people safe and clean water. Will be operated by parents.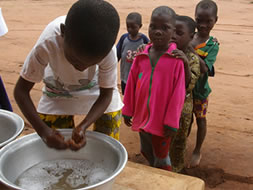 Well water enables children to learn how to wash their hands properly
Operation of a kindergarten
HFW built a kindergarten in the village of Gbeto in southern Benin in October 2006, and has been operating it since then in order to give children an education and improve their health and nutrition by establishing good daily health habits. A deep well* was built on the kindergarten grounds in January 2008, so that the approximately 90 children and other people in the area could have access to safe and sanitary water.
Prior to construction of this well, parents took turns traveling 2km to get water for the kindergarten children. Collecting water was not easy at all, particularly on rainy days. It was a challenge to ensure that there was enough water during school hours to provide a sanitary environment for the children.
The construction of the well enabled them to get enough water not only for sanitary education such as hand-washing, but also for cleaning the kindergarten and toilets. Moreover, about 50 households in the area take advantage of this well, so it is used continuously throughout the day. Now that all villagers have access to clean water from the new well in their neighborhood, children can easily practice the sanitary procedures they learn at kindergarten in their own home.
This new well is operated and maintained by the parents' committee of the kindergarten and the Well Management Committee, whose members were elected from among the community. It is essential for the sustainability of the well that the members of the community are able to do basic maintenance and minor repair work. It is also important that there are enough funds to do major repairs when needed. HFW provided the management committee with training sessions on basic maintenance work and bookkeeping skills.
Since then, the management committee has been charging a usage fee of 10 CFA (about ¥ 2.5) per 50 L to cover regular maintenance costs and save up for any major repair work.
* This construction project was made possible by the financial assistance of the International Volunteer Fund in 2007.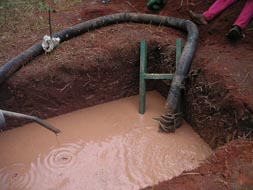 A well under construction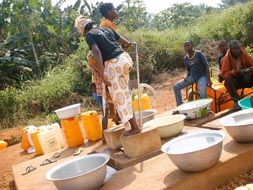 Community members draw water from a well with foot-pedal pump
Message from Benin
I have been a member of the parents' committee since the opening of the kindergarten, and am working for the children at the Gbeto kindergarten as well as the other children in the area. For instance, I helped repair the door of the kindergarten to make sure it is a safe place for them to stay all day. I decided to run for the well management committee because I thought my past work experience as a mechanic could be useful. Thanks to the training sessions by HFW, I learned the necessary skills for well maintenance. I hope I can teach the skills I learned to other villagers so that we can keep our well in good working condition for a long time to come.
Mathias Pemaba, in charge of maintenance, Well Management Committee