1 Nov. 2007 Benin
The kindergarten in Gbeto village opens spreading awareness of the importance of education, and preventing child labor.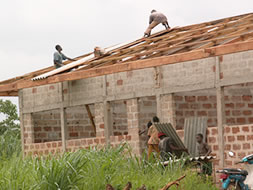 The local residents all pitch in with the construction effort
Operation of a kindergarten
Under construction since March of 2006, the kindergarten in Gbeto village opened at last. This success is the result of the hard work of village residents, who came together and got up early to bring water and sand to the site each morning before heading out to work in the fields, even during the busy rainy season. An opening ceremony was held on October 31st and was attended by over 150 village representatives and people connected with the local government.
One building with three classrooms was constructed during this project. There are currently 86 children aged three to five attending the kindergarten. There is only one elementary school in Gbeto village. This project's goals included providing children whose opportunities to attend school are limited with a place to receive education from an early age, helping to spread awareness of the importance of education, and preventing child labor.
At the kindergarten these children who live in an agricultural area are learning things that they will be able to use in their daily lives as part of an independently created curriculum. The newly hired teachers are also being provided with ongoing training to enable them to develop the children's ability to express themselves.
This school was constructed with funds raised as part of the Japanese Trade Union Confederation's Donation for Love campaign 2005 and sale of redeemable items such as postcards contributed by members of Japan Federation of Telecommunications, Electronic Information and Allied Workers.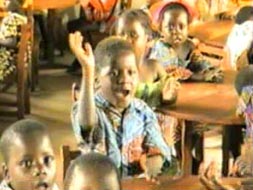 Children participate in lesson cheerfully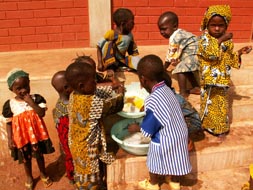 Kindergarteners were taught how to wash their hands properly
Message from Benin
Start learning in their early age, particularly having opportunity to learn French may lead them to great chance when they grow up. I am very grateful to the staff of HFW.
*The village mayor did not feel significance of preschool education. But he became the biggest supporter of the kindergarten as the construction progressed.
Village mayor of Gbeto village