28 Feb. 2011 Benin
Maternity hospital was finally constructed in Gbeto village. Clinics and pharmacies would be built in 2010.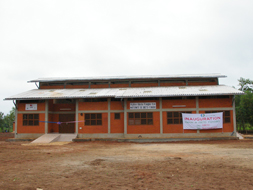 Construction of a maternity hospital was completed. This is the first medical institute in Gbeto.
Safe childbirth
A survey, in which the local people participated, was conducted in Dec 2004. It revealed that the people's concern, especially women, of lack of medical facilities. The closest hospital was located in seven to eight kilometers away from the village and they could not readily consult a doctor if their children were sick. It was also apparent in the survey that some pregnant women lost their lives because they could not be properly treated during delivery. As a result, a construction plan of the Health care center for mother and child was included in the five-year plan created by HFW and the local residents in 2005.
In 2009, the construction was realized with the fund by the Grant Assistance for Japanese NGO Projects of Ministry of Foreign Affairs of Japan. The construction started in Dec 2009 and the health care center, outside toilets, and a well were well underway with support of the residents. In the beginning of August 2010, it was virtually complete. At the same time a request for sending gynecologists and nurses was filed to the Department of Health and delivery beds and other materials and equipments were ordered.
August 24 was the day people of Gbeto village had longed for; The hospital's grand opening. Masahiro Bamba, ambassador extraordinary and plenipotentiary of Japan, participated in the ceremony as a representative of Japanese government. People of Gbeto village, officials of Ministry of Foreign Affairs and Department of Health of Benin, and officers of Beninese NGOs as representatives of its civil society also attended the ceremony. During the ceremony the local health facilitators whom HFW had trained to improve nutritional condition performed a short play to teach the value of maternal and child health. Then the representative of department of health gave a speech saying"In Benin as many as 3,500 mothers loose their lives a year during child birth that is supposed to give lives. It is Beninese government's first priority to protect health of mothers," emphasizing the value of the center. Japanese ambassador encouraged the local residents to work together and run the hospital by stating, "Poverty cannot be solved only by installing facilities. People's awareness must also change."
Approximately 12,000 people, not only from Gbeto village but also of the neighboring villages, are expected to use the hospital. While waiting for gynecologists to be sent by the department of health, the residents will raise funds to cover expenses such as the doctors' salary and to run the hospital. The completion of the facility is only part of the plan. Clinics and pharmacies are expected to be built in 2010.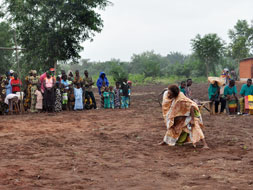 Facilitators performing a short play to tell the audience that some pregnant women could not reach the hospital on time and gave birth at the side of the road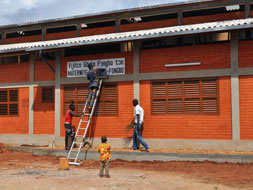 When rainy season started, local residents weeded the land almost everyday