15 Oct. 2017 Burkina Faso
HFW organized a national conference calling on 15 NGOs/associations. Discussed about YEH actions.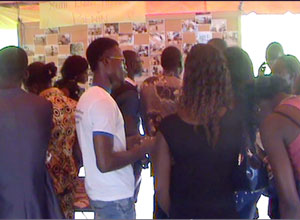 Introduction through photos of the other NGO's activities to young people
We invited 15 other NGOs/associations to hold a national conference where YEH members discussed about their actions. The objective was to build a network with other associations of young people and to make people more aware of YEH's activities in the country. 6 YEH members from Benin and HFW Youth Development Program Coordinator also participated.  The various associations exchanged ideas and introduced their activities through a photo exhibition, and finally to deepen their friendship, they organized social events such as a soccer tournament. It was the first time for Burkina Faso YEH to organize a conference of this scale. There were various problems concerning the preparation and the management of the conference, but it's definitely a useful experience that they can use for next time.