11 Jan. 2019 Burkina Faso
The demand for properly functioning food storage is finally fulfilled.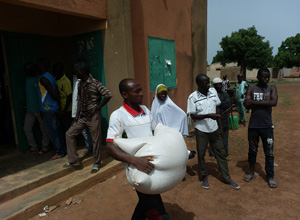 In Burkina Faso, each village owns at least one food storage constructed by the national government. This facility was originally constructed to play a very important role on guaranteeing food supply to the low-income families in the area, by selling food at reasonable price during low harvest season between May and September. However, in reality, this food storage hardly functioned as intended; local people often could not buy food when they needed due to no available food stock in the storage, or even when there were some available stock, richer people who were not the target of this facility had higher priority to purchase the food. Therefore, Hunger Free World (HFW) proposed the representative of the food storage in this perish to restore the function of the food storage. This negotiation was not easy; however, persistent attempts finally succeeded to replace the former representative to the new personnel. This resulted in renewal of the management system of the food storage, ensuring sufficient stock of food items such as maize, sorghum and millet.
HFW also asked for further price reduction by dividing food which were originally sold in large bags, into smaller bags so that people could more easily access food. Unfortunately, this proposal was not accepted due to large labor and cost. As an alternative way, HFW advised people that they would purchase food not as one person but a group of several people. In this way, the food in this storage became more affordable to the people in need. In general, every year in July, August and September are the severest months for families in this region due to low food stock at home. This year, however, they successfully survived this severe period without limiting their daily meal to only once a day, by getting food at low price at the food storage.
HFW is planning to strengthen the monitoring of this storage from January. Current monitoring focuses on timely refill of the food items to maintain food availability. Qualitative aspects will be also included at the next step; several measures including the number of food categories and food preservation conditions will be checked. Finally, this monitoring skill will be gradually transferred to the local people so that they can monitor their food storage by themselves.
This improvement can give positive impact not only to the target area but also to all residents who are living in the village using food storage. We expect that this case would be successful model so that the improvement of food storage system would be spread out to whole area of Burukina Faso.