11 Mar. 2020 Burkina Faso
YEH carried out enlightenment events in two six-year secondary schools to deepen the students' understanding of "Right to Food"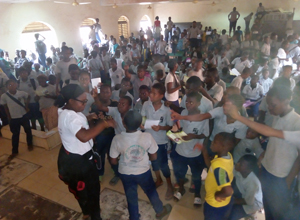 Very lively meeting in Benaja Secondary School
On April 26, YEH carried out an enlightenment event in Benaja Secondary School followed by another on May 2 in Les Elites du Savoir Secondary School. In Burkina Faso, a referendum is scheduled to take place to amend the constitution. The current draft for the amendment incorporates "Right to Food". These events were held to inform young people of the importance of "Right to Food" and to stimulate youth with voting rights to vote for it. Besides, it is expected that introducing YEH's activities to youth can increase its participants, deepen the school faculty members' understanding and help YEH members themselves to strengthen their ability to communicate.
In Benaja Secondary School, 358 students participated from 3:30 p.m. after they finished classes. Twenty-five YEH members made presentations on "Right to Food" and YEH activities to realize it. Then, they deepened students' understanding through questions and answers. In order to attract students' attention, comedians performed a skit. It had been requested beforehand to the comedians to send out a message as to what should be done to bring "Right to Food" to reality. They also prepared and delivered materials such as fliers that plainly explain "Right to Food" and leaflets on YEH.
In Les Elites du Savoir Secondary School 21 YEH members held the same event in the morning and 71 students attended.
In Benaja Secondary School, students were dismissed immediately after the event and 136 of them gave high ratings to the questionnaire regarding the event, while 69 students of Les Elites du Savoir gave approval to it. Further, the faculty members that had observed the events evaluated the activities by the youth as very effective. The manager of Benaja Secondary School, Mr. LAGBEMA Wend Yam said "It was very good that they utilized comedians. It made the message easier to reach students".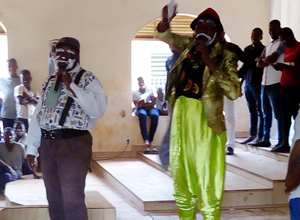 Comedians plainly communicated the importance of "Right to Food" with a sense of humor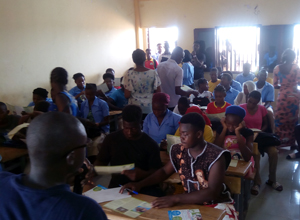 In Les Elite du Savoir Secondary School, too many students gathered to enter the room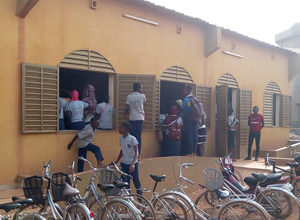 The students who could not enter the room participated through the windows