15 Jul. 2015 Burkina Faso
Mothers are encouraged to bring their children to a health center for health for health check.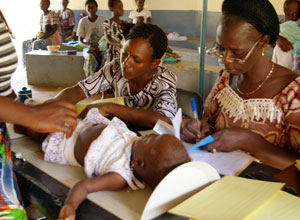 42 children were diagnosed as malnutrished at the health center in 2012. They made visits at the center three times a week for medical treatment and examination.
Nurtrition rehabilitation and education for infants, lactating and pregnant mothers (CREN)
The project (CREN) for improving the nutrition of infants and expecting mothers at the health center in Koubri County has entered its 8th year. As of now (December 2012), 715 people have recovered from malnutrition. Not a single malnourished child has returned to center, and most of the children in this area have recovered from malnourishment.
The most significant contributing factor to this result is the monthly physical exams that began to be held in 2007. Nurses go to the 11 targeted villages by motorcycle to deal with the children called there by county health officers. At first roughly half of the children gathered there were malnourished, and the children who were diagnosed as malnourished were encouraged to make regular visits to the center. As a result, since around 2011, it is more common for all of the children called there to be confirmed healthy.
On successfully reaching its objectives, the health check-up project was discontinued in March of 2013. From now, we are going to investigate in detail nutritional conditions which cannot be diagnosed merely by physical examination of children in this area. Based on the results, we will discuss whether we should maintain the project as currently arranged or whether more effective means are available.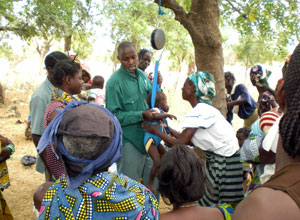 Nurses identify malnutrished children at the physical exams. They bring equipments to measure the weight and height of the children.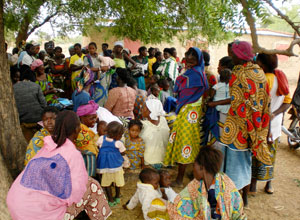 A look at the physical examinations in 2009. Nurses visit and identify malnourished children. At the time, one out of three suffered from it.