16 Aug. 2012 Burkina Faso
YEH has restarted! 16 young people have started to gather discussing about what they can do.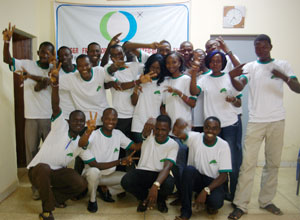 The members of YEH Burkina Faso (The first to thrid from the right in the front row are the members of YEH Benin and Benin Office staff).
Awareness raising for sanitation and improvement of school environment(YEH)
YEH Burkina Faso, a youth organization of HFW which has been inactive for a few years, restarted activities in August. On the day of the restart, which had been long hoped for, twenty-three participants attended the launching event, including sixteen young people who have volunteered to be members, three HFW staff members, and Tsuchihashi Rumi, head office program coordinator for Benin and Burkina Faso, who was visiting Burkina Faso. And from neighboring country of Benin, one HFW staff who is a former YEH Benin member and two current members joined them as well.
They discussed what YEH is, its policies, its activities in other countries and future tasks, accepting advice from the experienced YEH Benin members. Most of the sixteen young people are high school or university students. One of them formerly visited the HFW office to help with the maintenance of personal computers. Soon his friend joined him, and then a friend of his friends also began to come… and in due course sixteen young people have started to gather.
After the commencement event, seven executives were appointed out of the sixteen YEH members. The executives will play a central role in discussions about future activities. We forward to the active engagement of young people who come to the office for debate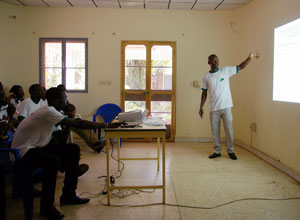 A member of YEH Benin introduced the activities of YEH.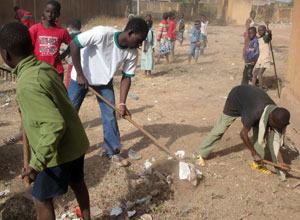 Cleaning up the school with children.