2 Jun. 2011 Burkina Faso
Wishing for rich amount of harvest. Fruit tree planting has begun In Wamtinga village.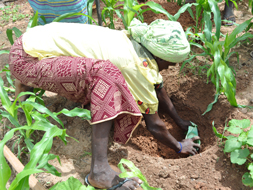 Women digging holes for fruit trees. They will plant mango and guava trees that grow well in the land and the fruits sell at high prices
Support to a cooperative
In Wamtinga village where HFW operates, fruit tree planting started in support of a women's cooperative. The cooperative manages and lends a threshing mill which HFW installed in 2006. In 2007, the cooperative invested the profit from renting the machine and opened a shop to sell daily necessities. The businesses are going well. Its goal is to loan funds to its members to enable them to start their own small businesses in the future. Until they save enough fund, HFW supports them by planting fruit trees so that they can sell the fruits and earn more money. Raising awareness among local residents on protection of environment is also a purpose of the project.
In Aug 2010 when rain started as expected, preparation for fruit tree planning began with support of tree planting official from the local environment bureau. Sixty women who are members of the cooperative and member candidates dug holes for young plants. Normally young plants are placed at intervals of four meters, but they were planted at eight meters because fruit trees require a lot of water and nutrients. The official advised, "it is recommended to plant them after a few rain falls so the soil sucks up abundant water and the plants will grow well."
On August 12, 100 plants were delivered by HFW. Two-thirds were given to each family and the rest was planted in the shared land. Later on, we plan to build fences to protect the young plants and conduct training on how to protect them in dry season when there is hardly rain.