3 Dec. 2012 Burkina Faso
Achieved 100% passing rate of providing school lunch! Students got energy for study.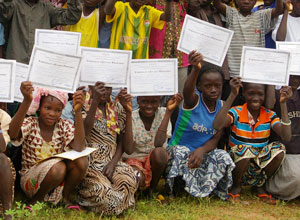 6th grade students showing their certificates. Over half of them will enter junior-high school for free as honor students.
School lunch
In Burkina Faso where many families have only one meal per day, school lunch was well received by community members.. The number of enrolment at Pissi village primary school was 175 in fiscal year 2006 (Oct. 2006~Jun. 2007) , and increased to 336 in FY2011. Especially, recent poor crops made the quality of family's meal down, and parents of the children feel relieved that their children can get square meals at least once a day as long as they go to the school. Also, school lunch has good influence on not only the children's nutrition but their school performance.
In Burkina Faso, even primary schools have promotion examinations. The passing rate of the 6th grade which decides whether they can go to secondary schools was 69% in national average*. The passing rate of the 6th grade of Pissi village primary school was 40% in 2006 when the school lunch began. After that, the passing rate went up year by year. Finally, the passing rate reached 100% in June, 2012 and all 51 pupils of the 6th grade received the certificates.
Before school lunch started, children either had taken classes on empty stomach or had gone home to eat lunch. Some came back to school tired because their houses are far and it took two hours to commute. However, thanks to school lunch they can take classes without feeling hungry and the lunch break can be used more productively for t preparation and review of their classes.
Also, teachers have more time to communicate with the pupils on lunch break, and strengthen ties with pupils, which gives the teachers stronger motivation to teach. They made commitment that all the children who enrolled in the year when school lunch began shall pass the exam and graduate in FY2011. They started classes two weeks before the new semester and taught their pupils without taking Christmas holidays. Parents also continued to make school lunch so that the pupils were able to study the classes with joy and full belly on Christmas holidays.
Thus, as a result of efforts of teachers, parents and pupils, the aim of 100% passing rate was achieved finally.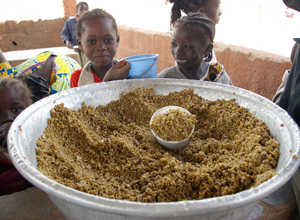 Students can concentrate on the class with their stomachs filled with school lunch.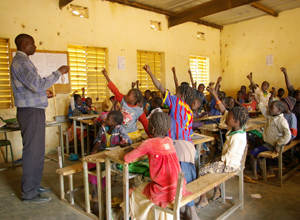 Children attending the class with much energy after school lunch.