1 Apr. 2010 Burkina Faso
A brand-new kitchen for the school lunch program. Volunteer cooks appreciate increased efficiency.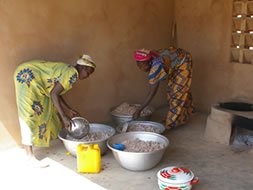 Working in the improved kitchen
School lunch
Since October 2006, a school lunch program has been offered at the Pissi Elementary School, the only elementary school within the area of the four villages where HFW is active. Lunch is provided to children four days a week (since school is over at noon on Wednesday). Mothers in the four villages take turns cooking for them. Until recently, these volunteer cooks had been working in a temporary building built with mud walls. Lighting cooking fires in that building quickly brought the inside temperature up to 50°C. Poor ventilation in this old kitchen raised concerns about the effect of smoke and ashes on the health of volunteer mothers. In order to establish a permanent, pleasant and healthy environment to prepare children's lunches, we built a brand-new, well-equipped kitchen building in January 2008.
The new kitchen has excellent ventilation thanks to the chimney, which efficiently draws the smoke and ashes out. It also has an improved oven that fits pots snugly, preventing any excess heat from escaping, so it takes much less wood fuel to cook the same amount of food. A food storage room was built right next to the kitchen, which helped to improve food management and work efficiency. The volunteer mothers are very happy with the new facility.
In May 2008, the lunch program will be two years old. The program will continue in October at the beginning of the new term.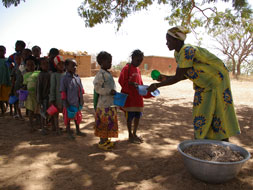 Receiving lunch from a volunteer mother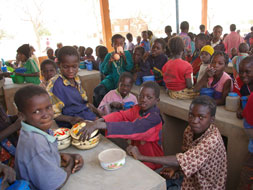 Children enjoying lunch