1 Jul. 2008 Burkina Faso
Providing assistance to the mothers of the village making school lunches leading to an increase in school attendance.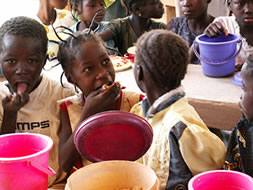 Handmade by the students' mothers, the school lunches are full of nutrition
School lunch
During the eight months from October 2006 to May 2007, coinciding with the beginning of the fall semester and end of the school year respectively, HFW provided assistance for a school lunch program at an elementary school in the village of Pissi in Koubri Department. HFW's activities included the construction of a cafeteria and the supply of foodstuffs, as well as conducting a training program for teachers and mothers to teach them about nutrition and sanitation.
The school's students, totaling 175 children for grades one through six, are drawn from four local villages including Pissi. As it became known that a school lunch program would be instituted, the number of students enrolled grew to 230. As a result of the program, students could better concentrate on their lessons, no longer studying on empty stomachs. Also, it was expected that academic performance would improve since, for example, students could now be seen studying in the cafeteria during lunch recess. The program is to continue into the new semester starting October 2007, and there are plans for a vegetable garden to help ensure the continuance of this endeavor.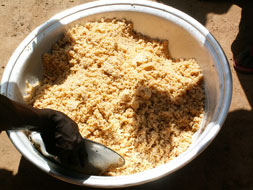 School lunch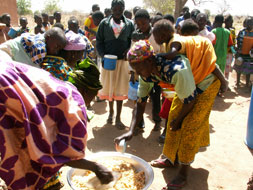 Cooking school lunch