30 Oct. 2010 Burkina Faso
Fixing a broken well so that water no longer has to be drawn from far away. The villagers expressed their gratitude.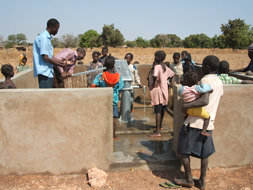 Gathering at the newly repaired well to make sure it's usable
Construction of a deep well
There weren't enough wells in the Burkina Faso in the region where HFW is active to supply the area's residents with safe drinking water. In 2009, a well was constructed in a neighboring village to alleviate part of that problem. It took digging down deeper than 60m before water suitable for drinking could be found in that area, and cost around ¥310, 000 to pay for the heavy machinery necessary to do so. (Excluding project management fees)
There are also many unusable wells in other villages. The problem with most of them was that the pump or the pipe leading to the water-supply pump was broken. The well-spring itself was usually fine. Repairing these wells costs only one third of the price for constructing a well. In April of 2004, HFW repaired two wells in the villages of Gomtoaga and Pissi. We replaced the pipes and pumps and also improved the environment around the well in a way that would make it easier to draw water. We also adjusted the surrounding of the well so that spilled water would gather and provide a drinking hole for livestock. Most of the villagers participated in these improvements as volunteers. The villagers expressed their gratitude, saying, "We're delighted that this well is usable again and we no longer have to travel long distances in order to draw our water."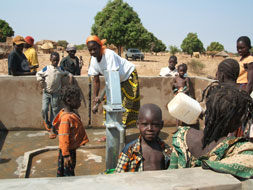 Children are also observing ongoing construction process.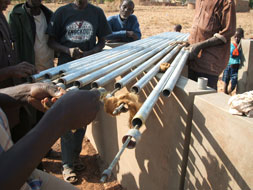 Installing new pipes and pumps.